Building with green foresight
Collective Carpentry in Invermere builds prefabricated low-energy houses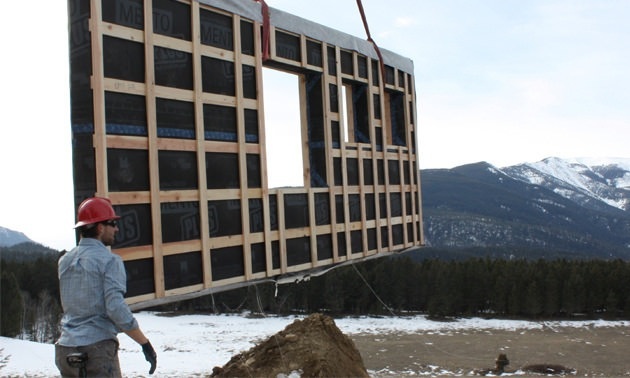 The workers at Collective Carpentry in Invermere build prefabricated homes that are so airtight that they have to install a system for bringing fresh air into the houses.
The company adheres to passive house (passivhaus in German) principles, which are defined by a rigourous voluntary standard that results in buildings that require very little energy for heating or cooling.
Owners Rane Wardwell, Andrew Turgeon and Jan Pratschke along with employee Andre Kreutzer are young—all are under 40 years old—but experienced carpenters on a mission.
"We are passionate about leaving a positive impression in our valley," said Wardwell. "We are efficiently producing high-performance, healthy and long-lasting homes."
In a conventional house, fresh air comes in through cracks in doors, windows or other leaky outlets. Passivhaus houses are 10 times tighter than the average, so heat recovery ventilators are installed to bring in fresh air from the outside and pass it through a heat exchanger and an air filter. The stale, warm air is expelled from the house through the same heat exchanger. The end result is better indoor air quality.
"In general our buildings have twice the amount of insulation that is required by code," said Wardwell. "We use as much as eight inches of (foam insulation) under a basement slab for R-32. Basement walls are insulated to the same level as our above-grade walls, which is usually R-42 or higher. Ceilings are insulated to as much as R-110.
"There will be plenty of people that think this is overkill, but our intention is to have our buildings last for generations," Wardwell said. "Although it's not as obvious as some of our fine-finishing details, increased insulation and airtightness add an intangible level of comfort and well-being in a home."
Customers get a 3-D view of their home before it is assembled in Collective Carpentry's new 3,000-square-foot shop, finished in December.
"We have built houses in this way on-site, and it's possible to achieve the levels of quality that (the passivhaus system) requires," said Wardwell. "But it gets a lot easier when we take ourselves, the material and our tools out of the elements, into our shop and just focus on the necessary craftsmanship. By building inside, we've minimized the weather factor that plagues a lot of construction projects.
"Panelizing is the term we use to describe what we do in our shop. It differentiates us from modular builders that actually pre-assemble all of, or parts of, a house," Wardwell said. "By building in panels, we decrease the size of what has to be shipped, and it allows more flexibility on where our projects can go and how they will be assembled."
The company's homes are primarily built for Alberta and B.C. customers.
"It's very exciting to think that we can take advantage of healthy housing markets all over Western Canada while still living the lifestyle we love in the Kootenays," Wardwell said.
Healthier materials
The carpenters at Collective Carpentry use local, sustainable materials whenever possible.
"Living where we do, we have a plentiful supply of really high-quality wood and some really innovative wood products," said Wardwell. "We are using Brisco Fine Line on one of our current projects. Fine Line is a mass timber product like a glulam beam but made of even smaller laminations."
For projects that require batt insulation, the team uses Roxul products, manufactured in Grand Forks. On panels thicker than two by six inches, they use cellulose insulation made from recycled newspapers. Not only are they repurposing the newspapers, but the injection process ensures that every cavity is filled to the proper density.
These builders stress that their homes result not only in saving money on heating and cooling but in other ways as well.
"It's a really big responsibility to build a home for someone. There is always a significant amount of money involved, and it's our job to make sure the money gets used wisely," said Wardwell. "The computer program we use breaks down the material and gives us an optimized list to make sure we get as little waste as possible.
"We can also make sure that all the material that needs to go into a project is accounted for, so our pricing is accurate and optimized as it moves through our shop and job sites."
Collective Carpentry, which has been in business since 2008, also manufactures other elements such as stairs, mantels and millwork.
"For smaller projects, we would consider doing it on-site," said Wardwell, "but really, it's a lot of fun to work in the shop—it's hard to get us out of there."