A step forward for food security in Fernie
Ashley Taylor started Valley Vitals to promote permaculture in her hometown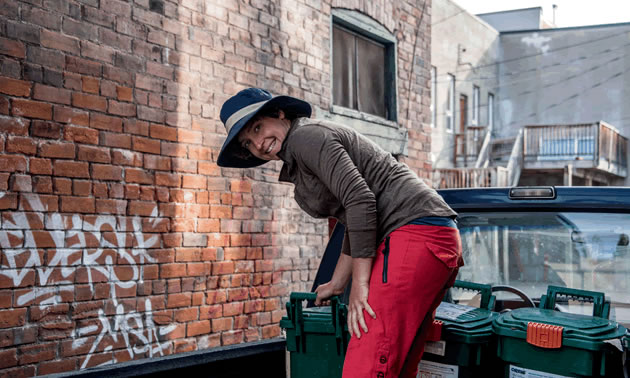 Ashley Taylor was locally grown in Fernie, and now she is promoting locally grown agriculture there. Her passion for the environment took the path of studying biochemistry, then health science and now permaculture. The foundation of permaculture is to develop agricultural ecosystems that are sustainable and self-sufficient. Taylor is cutting to the chase with chickens scratching in "recycled" compost that will grow fresh produce.
Taylor started Valley Vitals in the summer of 2017. The goals of the new business are to reduce food waste, grow produce locally and spread the word about food sustainability.

"We provide twice-a-week compost pickup for businesses for a nominal fee and return their bins clean and ready to go," said Taylor. "This summer we will have a market garden providing fresh fruits and vegetables as part of a CSA (community-supported agriculture) program or sold at the local Fernie farmers market."
Taylor answered our questions below.
Please tell us about your composting program last year. Will there be any changes to it this year?
Last year we partnered with Big Bang Bagels. In under four months, we removed over 1,800 kilograms (4,000 pounds) of compostable material and stopped it from entering the food waste cycle while raising happy, healthy chickens.

This year we are expanding to include 10 businesses. We already have excellent businesses such as The Blue Toque Gastro Diner and Nevados as part of our team this season. We will be raising more chickens as they help turn over our compost quickly. We also will be building three geodesic dome greenhouses and one chicken coop. The compost created in our program will go towards growing produce for local consumption.
What are you most excited about in terms of the future of your business?
I'm excited to be creating a career that not only allows me to live in the valley I love but also be part of a global initiative to create food security by taking up small-scale farming.
This project allows me to connect to my community in a whole new way. In the process, I've met so many amazing and supportive people. We are excited to expand our facilities to provide fresh produce and composting services to as much of our community as we can.