A snapshot of the Kootenays' MPs
Both of our new Members of Parliament are biologists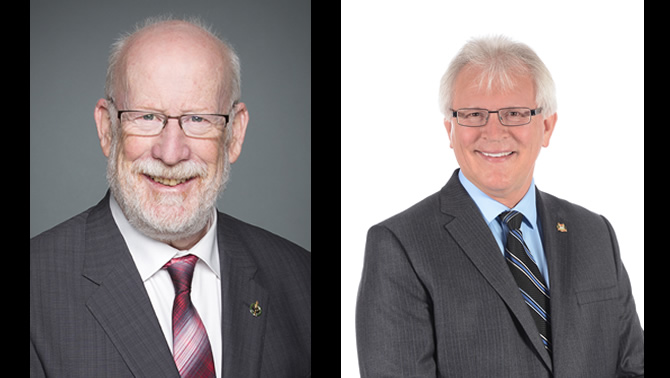 The West and East Kootenays have two new MPs and both of them have biology backgrounds, which is quite a coincidence given our gorgeous and biotically diverse Kootenay landscapes.
I asked Richard Cannings, MP for South Okanagan-West Kootenay, and Wayne Stetski, MP for Kootenay-Columbia, a few questions about themselves and their work.
What is your background as a biologist?
Cannings: My biology career started at UBC where I worked in the zoology department for 17 years, curating the Cowan Vertebrate Museum and teaching courses on field ecology and vertebrates of British Columbia. In 1995 I moved back to the Penticton area, where I grew up, in order to allow my children to grow up in the Interior forests as well. I started my own environmental business, doing work for all levels of government, local First Nations and local forest companies, often regarding Species at Risk. I wrote a dozen books on B.C. natural history and have also co-ordinated continental bird population trend surveys for the past 15 years. I served on both the B.C. Environmental Appeal Board and the Forest Appeals Commission, as well as being a co-chair on the Committee on the Status of Endangered Wildlife in Canada for eight years.
Stetski: From an educational perspective, I have a B.Sc. in ecology and a teaching certificate from the University of Manitoba (U of M). I also completed six of the 12 courses towards my master's (degree) in natural resource management from Simon Fraser University. I had been working on it part time but that ended when we moved to Cranbrook in 1990.
While I was going to university I worked during the summers as a park naturalist in Pacific Rim and Revelstoke-Glacier national parks. Shortly after graduating from U of M, I was hired on as the Assistant Chief of Interpretation for Manitoba Parks. B.C. was calling me in a number of ways, so in 1980 we moved to Vancouver. I finished my time there as manager of Visitor Services for the provincial parks of the Lower Mainland and Vancouver Island regions. Seeking a smaller city, I became the district manager for East Kootenay Parks in 1990. Over the next 19 years, West Kootenay Parks were added to my responsibility, as were Fish and Wildlife and Ecosystems for the Kootenays. In 2009, I left government and became manager of the East Kootenay Conservation Program, co-ordinating conservation on private lands. In 2011, I was elected mayor of Cranbrook and welcomed conservation interests to city hall. This past fall, I was elected as the member of Parliament for Kootenay-Columbia and have the honour of being named the NDP critic for National Parks.
What do you hope to achieve to help our Kootenay environment?
Cannings: My primary goals are to ensure that the promises made by the Liberals during the election campaign—including prompt and effective action on climate change, and renewing environmental protections and assessment processes—are undertaken quickly and fully.
Stetski:
Hold the Liberal government accountable on setting firm, measurable objectives for reducing our climate impact;
Establish a new, rigorous process for environmental assessments;
Restore legislation to provide better protection for Species at Risk and our lakes and rivers;
Ensure that the primary focus of Parks Canada is the ecological integrity of our national parks and that commercial developments take place outside of our parks;
Work towards the establishment of additional national parks in order to complete the protection of representative landscapes for all major ecosystems in Canada; and
Restore and improve funding for Canada's national parks so that our natural heritage is protected for generations to come.
What do you hope to achieve to help our Kootenay economy?
Cannings: We need to diversify the Canadian economy. Over the past decade the government has promoted the oil and gas industry to the exclusion of almost all other aspects of the economy, so that most jobs were created in Alberta and lost in other sectors and regions. When the global price of oil collapsed, the economy took a significant hit. A more balanced approach would create jobs through infrastructure spending and incentives for renewable energy, creating jobs in all regions of Canada. The Liberals have promised significant programs on both these fronts, and I will be working hard to ensure that the Kootenays get their share of these expenditures.
Stetski:
Hold discussions around the riding with small businesses and all three levels of government—federal, provincial and municipal—in the same room in order to develop meaningful, co-ordinated ways to help our local businesses;
Hold the Liberal government accountable to its election campaign of cutting taxes for small businesses;
Ensure that small businesses are aware of the federal grant opportunities available to them;
Encourage the growth of the green energy sector including solar, geothermal and bioenergy;
Hold the Liberal government accountable on ensuring that the development of our natural resources creates jobs here in Kootenay-Columbia (for example, by banning the export of raw logs); and
Work to reduce credit card fees for businesses and remove import duties on products no longer manufactured in Canada in order to improve our competitiveness.
CONTACT INFORMATION:
[email protected]; 250-365-2792
[email protected]; 250-919-9104