Thinking inside the box
Garth Rizzuto invites people to put their gloves on at Fernie Old School Boxing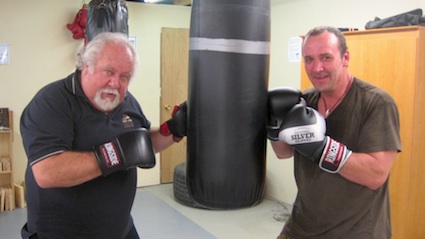 There are times when, even as a fit and active person, I find myself in the middle of a physical endeavour and I ask myself, "What have I got myself into?"
When I joined the members of Fernie Old School Boxing for their Thursday evening fitness class, that point came somewhere around the 400th sit-up.
Getting back in the ring
There is a long history of boxing in the Kootenays, with many national champions coming out of a former Sparwood club and the Cranbrook Eagles still going strong. Garth Rizzuto, the owner and founder of Fernie Old School Boxing, is a former professional athlete who is working on re-establishing the sport in Fernie. After hearing positive things about the gym and the effectiveness of boxing on physical fitness, I decided to see for myself.
One thing I noticed immediately was that the atmosphere wasn't intimidating. The class was upbeat and welcoming, even for me, a bright-eyed neophyte who had never taken any boxing classes. There were about a dozen participants—both men and women—of all ages. Rizzuto said the Tuesday and Thursday classes attract up to 20 people, including skiers for cross-training as well as competitive boxers. However, he said that the club, a non-profit society, is a place for anyone, regardless of their skill level.
The 90-minute class began with everyone partnering and doing circuits. The exercises ranged from lunges holding a punching bag to shadow boxing, and many of the exercises could be modified for different ability levels. When the circuits had ended, we put on boxing gloves and attacked punching bags, followed by exercises to improve our form, co-ordination and agility. I was given many pointers and congratulated when I got it right.
Finally, the group sat in a circle and began the aforementioned crunches—and leg raises, and oblique twists. Going around the ring, every member counted to 10 while doing the exercises. It was easy—for the first few hundred. By the time the leg raises started, anyone standing outside would have been forgiven for believing there was a group of women giving birth in the room.
Fitness aficionados may be familiar with the acronym DOMS—delayed onset muscle soreness. I was intimately reacquainted with DOMS for three days following my workout with Fernie Old School Boxing. The best part was that while I knew I was working hard at the time, I was also having fun. Is there really a better way to exercise?
Fernie Old School Boxing is located at 661B 2nd Avenue in Fernie. Call 250-423-0272 for details.