Vikings, yurts and ziplines were lauded at the Columbia Valley Business Excellence Awards
Columbia Valley businesses are an eclectic bunch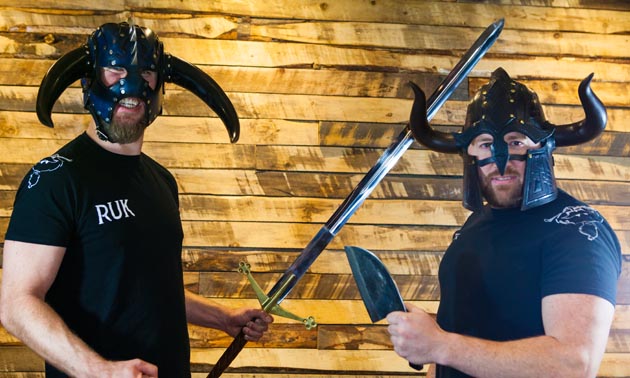 Hosted by the Columbia Valley Chamber of Commerce and the Radium Hot Springs Chamber of Commerce, the Columbia Valley's annual Business Awards Gala was held on October 24, 2019.
Twelve awards were handed out to a wide range of business types, with the last part of the alphabet well represented (i.e., Vikings, yurts and ziplines). Many of the award recipients recognized and thanked the great business community of the Columbia Valley.

Congratulations to the following winners:
Trade Services Excellence: STW Cutting Edge Carpentry
A custom-home builder, STW Cutting Edge Carpentry won the Trades Service award. The company renovates and builds homes in Panorama, Invermere, Fairmont Hot Springs and surrounding area.
"We're punctual, productive, qualified and experienced," states the company's website. "But when it comes to work, we show up on time and we stay until the job is done."
Tourism Hospitality Excellence: Radius Retreat
For an exceptional "experiential holiday," rent a yurt from Radius, winner of the Tourism Hospitality award. A few minutes from Radium Hot Springs, Radius is a mountainside retreat with hike-in yurts and 400 hectares to explore.
Amenities include outdoor firepits, solar lighting and composting toilets. And the best part? Your pets are welcome!
Retail Excellence: Bird's Eye Boutique
"I truly believe that every purchase we make is our personal vote within the universal consumer marketplace," states Tara Morgan on her website. As the owner of Bird's Eye Boutique, she picked up the Retail Excellence award.
The boutique sells new and high-quality resale clothing and accessories in downtown Invermere. This is not your typical consignment shop. Bird's Eye accepts men's and women's clothes for store credit.
Small Business of the Year: Fairmont Creek Vacation Rentals
Fairmont Creek Vacation Rentals (FCVR) won Small Business of the Year. These rental experts offer fully equipped vacation homes in Fairmont Hot Springs and Panorama Mountain Resort.
On one hand, FCVR offers vacationers two great locations for their holiday adventure. On the other hand, recreational property owners can earn rental revenues from their property when they are not using it themselves.
Tourism Adventure Excellence: Valley Zipline Adventures
It's no surprise that Valley Zipline Adventures was given the Tourism Adventure award. With seven zipline tours as well as a climbing wall and a jump tower, this popular Radium destination has fun for all ages. Your Valley Zipline Adventure is one-and-a-half hours long and features pristine views of the Columbia Valley Wetlands and Purcell Mountain Range.
Keep Valley Zipline in mind for celebrations—they accept bookings for special events and parties.
Entrepreneur of the Year: Mike Gray of Horsethief Creek Pub & Eatery
Mike Gray's FaceBook page says he is the Worst Bartender Ever, but as owner of Horsethief Creek Pub & Eatery, he won Entrepreneur of the Year. This restaurant in Radium Hot Springs has an extensive menu to please everyone's cravings.
What makes this a local hotspot are events such as Give Back Sunday, Live Music Monday and karaoke days. Check out the pub's calendar listing for events.
Professional Service Excellence: Invermere Dental Clinic
From dentists to hygienists, the Invermere Dental Clinic is a welcoming and comfortable place that is well received by patients for their professional and gentle manners.
With nine employees, Dr. Richard Kanan expressed gratitude to his staff while picking up the Professional Service award.
Innovation Excellence: Mountain Hub
The Innovation Excellence award was given to Mountain Hub, a co-working space in downtown Invermere. The beautiful shared space offers all the amenities you need, from high-speed internet, printer and copier to free coffee, tea and snacks.
Choose one of its monthly memberships, or just drop-in for the day. Networking and community events include Monthly Lunch and Learns.
Community Impact: Rotary Clubs of Invermere and Radium
With a motto of "Service above Self," the Rotary Clubs of Invermere and Radium won the Community Impact award. Rotary clubs are known for their ongoing projects at the local and international levels.
They also build special places in their local communities, such as the Splash & Spray water park in Invermere and the Rotary Garden in Radium Hot Springs.
When accepting the award with Invermere club member Al Miller, Radium club member Erin Palashniuk said they appreciate all the help they get from local businesses for support and donations. "Without you, we wouldn't be as successful as we are," she said.
Rising Star of the Year: Ullr Bar
The Viking-themed Ullr Bar (pronounced Ew•Lar) won Rising Star of the Year. The bar's name comes from the Viking god of snow, Ullr, and translates into "glory" in English.
The Invermere bar and restaurant sets itself apart with Viking helmets, bull horn beer mugs and a communal dining table. There's a games room, bingo, live music and innovative special events.
Business of the Year: Kicking Horse Coffee
We could simply say that Kicking Horse Coffee kicks ass, but you already know that. It's not only exceptionally good-tasting coffee but it's an exceptional place to work, having picked up the prestigious 2018's Best Workplace in Canada award. Go Invermere!
Winning the Business of the Year award from the local chambers, Kicking Horse Coffee is North America's number one organic coffee. As the company's website states, "We believe great coffee is the answer to many things."
Food and Beverage Excellence: Fuze Food
Fuze Food was given the Food and Beverage Excellence award. Owner Sarah Adamson's story is inspiring. She started out with a dream and a stationary food truck after suffering injuries while caught in an avalanche.
Now at a permanent location in Invermere, the health-food restaurant includes a smoothie and juice bar, recognizing that nutritious food is vital for our health and well-being.