Columbia Valley Chamber celebrates 22nd annual Business Excellence Awards
November 18 was a night of celebration at the Columbia Valley Business Excellence Awards, held at Copper Point Resort.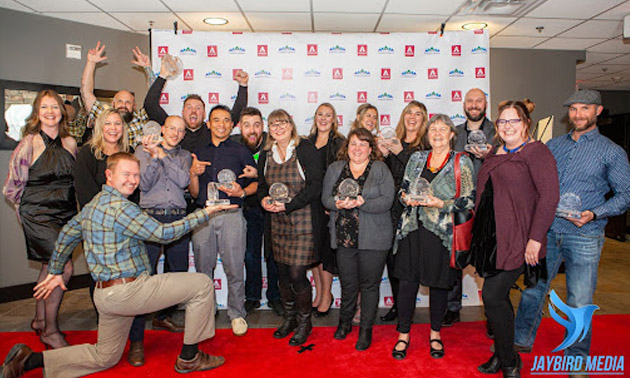 Beautiful Copper Point Resort in Invermere was the venue for the 22nd annual Columbia Valley Chamber of Commerce Business Excellence Awards, held on the evening of November 18, 2021.
This year saw over 300 nominations in 10 categories, celebrating everything from innovation and customer service to outstanding workplaces and commitment to sustainable business practices. A total of 13 award recipients were recognized at the event.
Congratulations to the following businesses, organizations and individuals:
STW Builders prides itself on its cutting edge carpentry skills. From custom new home builds and renovations to specialized structures like decks and garages, this company is built on a strong foundation of excellent customer service. Every day, they strive to have happy homeowners, and values like quality, punctuality and clear communication are of the utmost importance to them.
It's fitting that The Station Pub won this year's Community Builder award. With new owners coming on board in early 2021, the pub has undergone extensive renovations with at least four projects planned throughout the year. This family-friendly spot is often the go-to place for locals to gather after a day enjoying the outdoors. Read our story about the new owners and new look at this community-minded pub.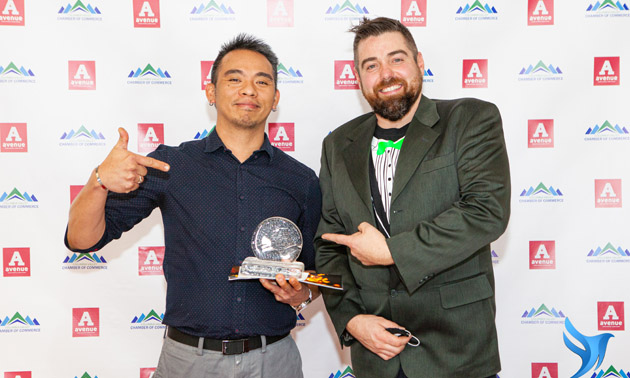 Non-Profit/Association of the Year: CBEEN
The Columbia Basin Environmental Education Network (CBEEN) is dedicated to encouraging environmental stewardship and sustainability through widespread education workshops and events. CBEEN's Outdoor Learning Store offers a range of accessible outdoor learning equipment and resources, including local place-based Indigenous resources that can help connect teachers and learners to their local land.
Congratulations to True Key Hotels & Resorts, this year's Outstanding Workplace of the Year award recipient. Commitment to a "team" environment is at the forefront of how this resort management company is run. By hiring for attitude and training for success, the company encourages a work atmosphere that is supportive, close-knit and respectful.
Providing superior customer service to their clients is important to the team at Valley Hawk Security, and that's clear from the glowing recommendations they get from both home and business owners. The company, owned by David Read, started up in 2005 and provides services like mobile security patrols, property checks, house-sitting and professional security guards. Read was also one of KootenayBiz's 40 Under 40 winners back in 2018.
Congratulations to the team at Valley Hawk Security on their Outstanding Customer Service award!
The Groundswell Network Society is made up of a group of dedicated staff and volunteers who are focused on bringing education, skills, healthy growing practices and sustainable food to the communities of the Columbia Valley. Throughout the year, they host a wide range of hands-on courses, workshops and events at their community greenhouse and gardens.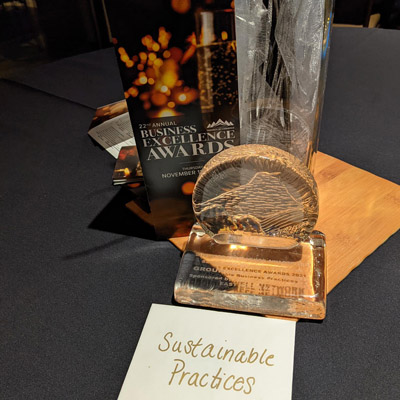 As a Chartered Professional Accountant and founder of Aspire Professional Corporation, Kyla Lam approaches her work with dedication and enthusiasm. She started Aspire in 2019 and now has a team of skillful professionals by her side. Lam and her staff are passionate about providing local small businesses, families and non-profits with knowledgeable, customized financial management solutions and advice.
Business Person of the Year: Justin Atterbury – Taynton Bay Spirits & Rocky River Grill
Justin Atterbury is a well-known businessman and entrepreneur around the Columbia Valley region. He's the owner of the Rocky River Grill in Invermere, the co-owner of successful small-craft brewery Taynton Bay Spirits and the former owner of The Station Pub. Atterbury is a "go-getter" kinda guy and even managed to face off with the tough-skinned dragons on CBC's Dragons' Den—and walked away with a deal too.
"Fun" is the keyword at Main Street Fun & Games. Whether they're hosting a Dungeons & Dragons game night, a Fairy and Fae Day or advising customers on the latest-and-greatest games to play, the staff at this store know how to have a good time. Main Street Fun & Games specializes in board games, collectible trading cards, puzzles, crafts, toys and oodles of geek supplies.
Business of the Year (11–30 employees): Ullr Bar
Invermere's Ullr Bar draws its inspiration from the Nordic god of snow—Ullr (pronounced Ew-Lar). It's clear the gods were smiling down on the staff of this unique Viking bar as they conquered the competition and scooped up one of this year's Business of the Year awards. Ullr Bar features a full "cuktail" menu, delicious food and friendly staff.
Business of the Year (40+ employees): Joe's NoFrills
The local Joe's NoFrills grocery store consistently provides impressive customer service combined with a friendly, small-town atmosphere. The store features clean and modern grocery departments, including a full-service bakery, deli counter and seafood department.
Congratulations to Rhiannon Tutty, this year's Chamber Member of the Year recipient. As a Sun Life financial advisor, Tutty is a passionate and hard-working professional. She's equally passionate about her local community and believes strongly in the idea of working together for the betterment of all.
When a restaurant sells out of popular items on a daily basis, you know you've got a winner on your hands. Smokehouse 93's slow-smoked barbecue has proven to be a hit with locals near and far. In addition to slow-smoked meat, poultry and ribs, this local diner also sells a range of barbecue sauces, seasonings, beef jerky and more.