Memorable Fairmont Creek
Clients of Fairmont Creek Property Rentals appreciate high standards and attention to detail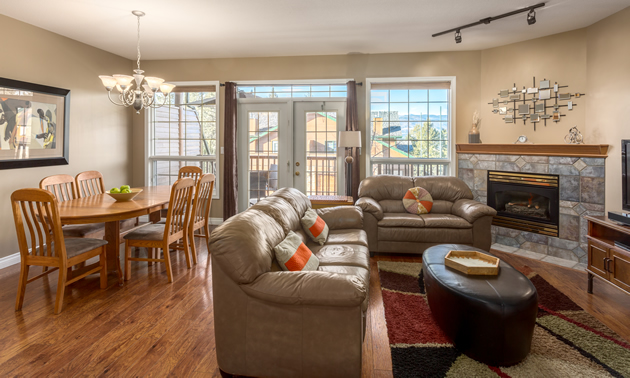 In the almost 20 years since it was founded, Fairmont Creek Property Rentals (Fairmont Creek) has seen growth, change and a lot of familiar faces. Current owners Tim Tourond and Ben and Becky Green were gratified in October 2016 to receive the company's second Business Excellence Award from the Columbia Valley Chamber of Commerce.
"It was really our property owners who voted for us to get this award," said Becky, who is Fairmont Creek's managing partner. "Without them, we wouldn't be the business we are. We're always striving to meet and exceed our owners' expectations. Between our two developments, we have more than 500 owners, and it was a great vote of confidence from them."
Fairmont Creek is located at Fairmont Hot Springs, B.C., and provides management services and vacation rental services for Marble Canyon Condos & Townhomes, built in 1999, and the Residences at Fairmont Ridge, built in 2007. The accommodations are renovated every few years, so they are up to date, clean and well maintained. As they vary in size from two to five bedrooms, they lend themselves very well to multi-generational families or other large groups.
Fairmont Creek also manages Timbers Resort Cabins, located south of Fairmont Hot Springs and overlooking Columbia Lake, and vacation condos in both Panorama, north of Invermere, and Sooke on Vancouver Island.
A lot of the guests at Fairmont Creek are repeat guests. Many of them first visited Fairmont Hot Springs as children, with their parents, and have built emotional connections to the area. Becky has noticed that in recent years visitors have begun to crave more than just a place to stay.
"They're looking for the whole experience," she said. "It's important to us to educate our new guests as to what they can do in this area to enhance that experience. We want them to have positive, lasting memories."