The Nest: Layers of flavour and ambience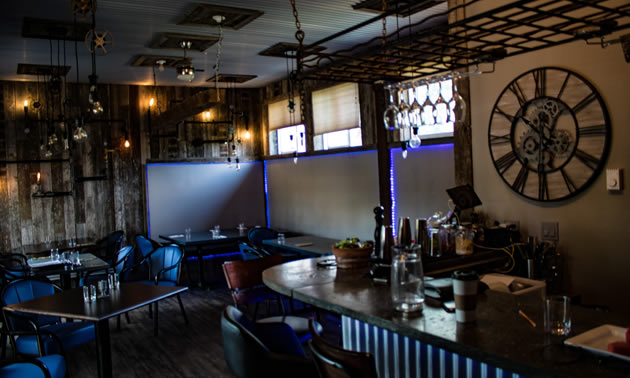 The chef is the kingpin in a restaurant, and Darcy Makeiff is supreme. He previously worked at Montana's on the ski hill but now likes the creative freedom that comes with co-owning his own establishment—The Nest in Marysville. The day I visited he was making one of his homemade pastas, this time a beautiful black squid pasta.
The second owner, Neill Anderson, helped me select a signature cocktail. I had a Guava Sunrise cocktail that was perfect … not too sweet with layers of fruity flavours. For my entree, the duck breast with mushroom risotto was topped with layers of flavour including a cherry sauce. Can you say fabulous with your mouth full? It was and I did.
In coming together to create The Nest, the two owners are shaking up the restaurant scene in Kimberley.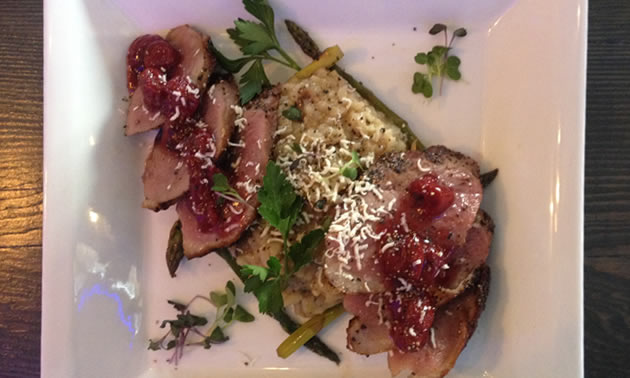 The flavours and ambience are in the details
With decades of experience between them, the duo are giving it their all to make this restaurant a success, from the ambience to the food. The decor is simple, rustic and comfortable: natural wood walls and floor, soft blue leather seating and an artistic use of lighting.
They've planted a garden for fresh ingredients, especially herbs. They're using local products including distilled beverages from Bohemian Spirits in Marysville and Fernie Brewing.
The diverse day and evening menus will change periodically, a key for local patrons who make this restaurant a habit.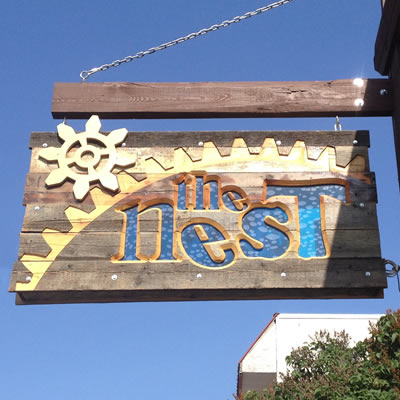 As for the food, Anderson simply says, "Darcy kills it."
Popular dishes are the pad thai, the beef tenderloin and the homemade pastas, with gluten-free buckwheat pasta coming soon.
If you're too full to eat Makeiff's fantastic cheesecake, you'll still savour a few frozen grapes with bites of decadent chocolate for dessert.
Dinners are served seven days a week from 5 to 10 p.m. The restaurant already has its regulars, so reservations are recommended for Thursday, Friday or Saturday night dinners. Lunch hours are Wednesday to Saturday noon to 3 p.m.
Located in downtown Marysville, The Nest includes a little patio with a tree for those lovely summer days or nights. Keep in touch with this restaurant on its Facebook page.