Black Dog Cycle and Ski in Kimberley, B.C., will fuel your fitness goals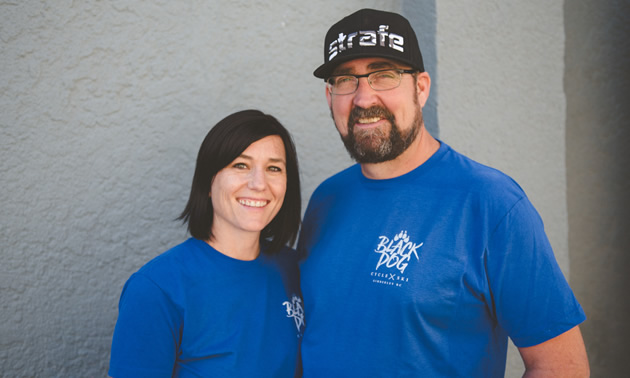 Winter sports enthusiasts can ski, snowshoe, skate or bike this season. Biking in snow?
"Fat biking is becoming increasingly popular and a great way to avoid that spring slog of getting ready for the summer biking season," said Angela Symes.
Angela and her husband, Perry Symes, opened Black Dog Cycle and Ski in Kimberley's Platzl this summer.
"We sell the Trek Farley, which is unique in the fat bike world," she said. "It has 27.5- by 4.5-inch tires, which is the largest tire available on a fat bike. The front tires are set up for studs as well so this bike can be used in Kootenay conditions throughout the winter."
This store is packed with everything you want (or need!) for skiing and cycling. Talented store staff can assist you with purchasing, renting or servicing outdoor equipment.
"Our goal is to offer exceptional, consistent service throughout both the bike and ski season," said Angela. "Not only will we take care of your equipment and your bikes but Dave and Scooter can offer expert advice on how to get the best out of your gear."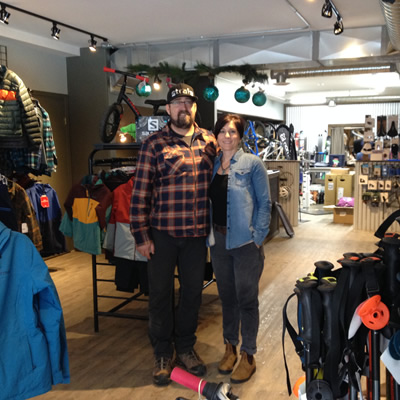 Another popular trend: e-bikes
According to Angela, the trend in electric bikes is nothing short of phenomenal.
"We have had several inquiries into e-bikes since day one," she said, "and the momentum is not slowing down."
The e-bike is not only a great way for you to stay active, but it's a great way to lower your ecological footprint by commuting to work via e-bike.
"So many people are becoming conscious of cutting emissions, and the e-bike is a great alternative to starting your car for much of the year," said Angela.
Investing in Kimberley's small businesses
The Symes's moved to Kimberley in 2013 from Oyen, Alberta, a small community west of Calgary.
"We love where we live and promoting this active lifestyle certainly isn't difficult," Angela said.
The owners want to expand on the small-town feel in their shop.
"We are hoping to expand on what other businesses are doing by encouraging people to get back to loving the small business again and get away from the big-box-store experience," said Angela. "We really feel like Kimberley businesses are at the top of their game right now in this aspect."