Trends for tots
Mompreneur award nominee Janet Skolka is bringing adorable children's fashions to Nelson with her store, Jilly bo Billy Boutique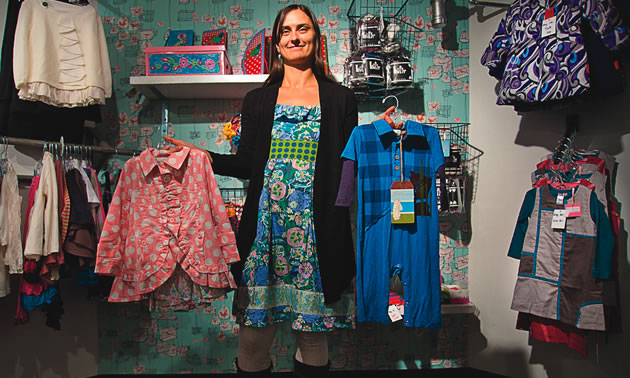 In 2010, Janet Skolka started her online children's clothing store, Jilly bo Billy Boutique, and was met with a warm reception. She has come a long way since then, and in October 2012 she opened a storefront on Nelson's Herridge Lane. Now she has the honour of being nominated for a 2013 Mompreneur award.
"Jilly bo Billy offers kids boutique brands at a discount," said Skolka, "past season, samples and overstock at up to 80 per cent off. (They are) just as adorable, unique and well-made as last season—just on sale. We carry boys and girls clothing, baby to size 12."
There's always something new
The store's stock rotates frequently, and customers can take advantage of the Deal of the Day(s) initiated every Monday on www.jillybobilly.com. During this promotion, items from a particular brand are offered at exceptionally low prices for one to three days. Customers can pre-order what they want, and their order arrives in approximately one week.
"This is a great way to guarantee sizes and styles, as not all items make it back into the store," said Skolka. "But if you prefer to touch and feel, come on down to the store. I hear a lot of 'I wish they made this in my size!' "
Enjoying the Nelson scene
Skolka describes a sense of excitement in seeing kids around town dressed in Jilly bo Billy clothes. She enjoys the in-person aspect of having a storefront, and being able to watch the reactions of her customers as they pick out trendy styles for their youngsters.
"I am also really enjoying just being in town," she said. "We live out of town, so I feel like I have the best of both worlds right now. I have been nominated for the Mompreneur of Excellence Award, where the winner receives $30,000 in cash and mentorships to grow her business. I would love to win, but I need your help to do so. It's a vote once per day, per email thing. As a thank you for your time, I am giving away a $500 gift certificate to Jilly bo Billy."
Details on how to vote and enter can be found on the contest website.