Sweet treats with a healthy twist
In a time when consumers demand organic, non-GMO food products, Lucky Cupcakes in Nelson is here to deliver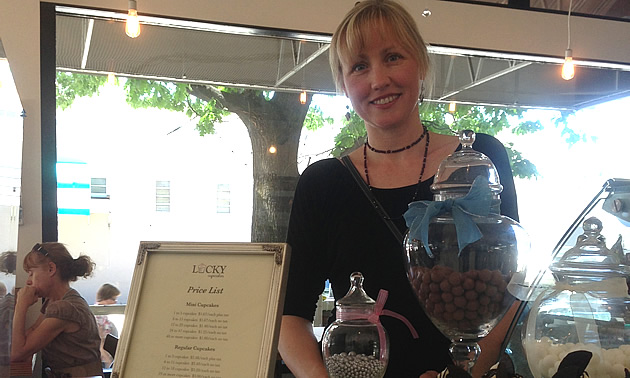 With a knack for taking wholesome, organic ingredients and turning them into decadent flavour combinations, Lisa Luckett started selling her baked goods at the Nelson farmers market in the spring of 2011. Lucky Cupcakes quickly gained popularity, and the fun endeavour turned into a serious business with a buzzing location in downtown Nelson.
"We offer cupcakes, cakes and a variety of other confections like English toffee and gourmet ice cream sandwiches," said Luckett. "Our specialty is our very popular cupcakes. We offer over 20 different flavours—and some of the most popular are chocolate sea salt caramel and Moroccan lemon blossom. All of these flavours can be created into cakes of any size."
If your tastebuds are tingling in anticipation, you can visit Lucky Cupcakes Monday through Saturday at its new location, 503 Baker Street (a space shared with John Ward Fine Coffee) in Nelson. The company also takes orders for special events such as weddings, graduations, birthdays and other occasions.
"We have many out-of-town customers who travel to Nelson just for our cakes," said Luckett. "We have a lot of repeat customers and are constantly gathering new ones."
A tremendous selling point is Luckett's affinity for healthy, high-quality ingredients. With more customers aiming to avoid artificial preservatives and genetically modified products, a nutritionally savvy business is always on the right track.
"We use organic flours, organic and fair trade cocoa and organic Madagascar bourbon vanilla to name but a few," said Luckett. "We also offer cakes made with organic brown rice flour as a wheat alternative. I think people's awareness about the quality of their food is rapidly growing and there is an increasing appreciation for a quality product, especially when you know the contents of non-organic products and the possibility of genetic modification. We always say, 'Beware of a cupcake that doesn't melt in the sun!' "
All of the Lucky Cupcakes products are made fresh and in small batches, entirely from scratch. Customers appreciate the complexity of the flavours and creative flair that goes beyond what most would expect from a standard cakery. The Kootenay Co-op has started selling Luckett's cupcakes in its deli section, and Lucky Cupcakes has also joined in collaboration with John Ward Fine Coffee.
"We would love to thank all our wonderful customers for their patronage and support over the past two years," said Luckett. "We couldn't have done it without you, and it's all our customers that make us feel like we have the best jobs around. Contact us for your next celebration and get Lucky!"
Give Lucky Cupcakes a call at 250-354-7195, or visit the business's website.