Quality comfort food
The Kirbys prepare meals with care, talent and top local ingredients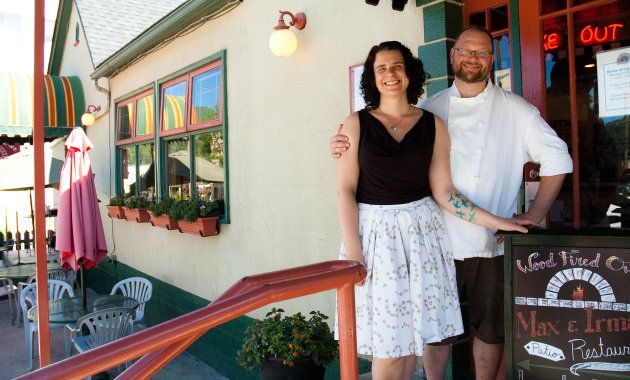 Nelson has a reputation for outstanding dining options, and the locals will tell you that Max and Irma's is one of the top choices. Owners Laura and Steve Kirby pride themselves on offering homemade lunch and dinner dishes created from scratch.
"We have been in business for 15 years," Steve said. "My wife Laura and I run the restaurant with the help of a truly excellent staff and also the huge help of Laura's mom and dad. A big part of why Max and Irma's stands out is our beautiful wood-fired oven—the real deal from Italy."
A perk of having a wood-fired oven is being able to create fabulous Italian meals such as the thin-crust pizza that Max and Irma's has become known for. Customers can also choose from a full menu of appetizers, pastas, salads and entrees, and there is even a children's menu for young diners. The bread and pizza dough is freshly made every day and seasonal, local ingredients are used whenever possible.
Every Monday night (except in July and August) is ethnic night, and Steve prepares a selection of dishes from all over the world.
The Kirbys have found their niche in the Kootenays. Their focus on wholesome, fresh and flavourful meals goes well with the health-conscious local culture. In addition, they have found Nelson to be the perfect spot to bring up their young family.
"I love living in Nelson because it is a great place to raise my three kids," said Steve.
Max and Irma's is located at 515a Kootenay Street and can be reached by phone at 250-352-2332. For more information visit the restaurant website.