Mountain cuisine to beguile your palate
Four talented entrepreneurs in Fairmont Hot Springs put their heads together with a goal to produce fresh, inspiring dishes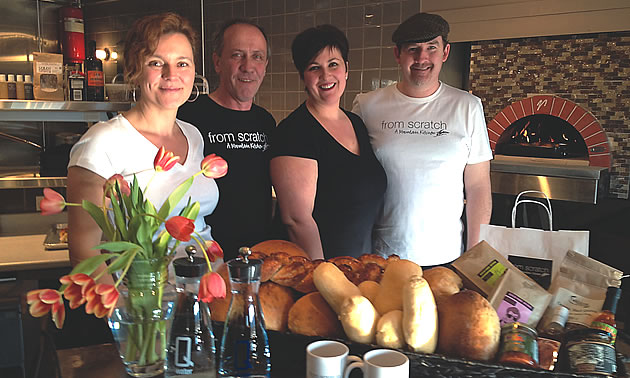 You haven't tried the best of Fairmont Hot Springs cuisine until you've been to From Scratch—A Mountain Kitchen. Co-owners Holly Brockmeyer, Norbert Kleiber, Lara McCormack and Adrian McCormack started the restaurant in the spring of 2012, combining their varied talents in the culinary industry to create a dream team of sorts. And it shows.
One glance at the menu will make it clear that this is no ordinary eatery.
"Our menu highlights include smoked ribs, wood oven-baked pizzas, the best eggs benedict ever, muffins, tarts, cakes, some gluten-free options and ever-changing daily features created with seasonal ingredients like duck confit, seafood risotto and lamb shank, to name a few," said Lara.
From Scratch also has retail merchandise, take-home meals and catering services although, to be honest, you will probably want to eat in-house once you see the comfortable, classy ambience of the restaurant. The food is made in-house from scratch with high-end ingredients, yet the prices are quite reasonable. The service is another highlight.
"When you really enjoy what you do, how can you not stand out," said Holly. "We often hear, 'This is the best breakfast I've ever had,' or 'These are the best ribs ever.' People tell us all the time that they love our concept or they love the feel of the place. This tell us we are hitting the right chord with people and that's rewarding."
Plans are in the works for an online store in the near future.