More than meets the eye
Infinitea T-Bar & Boutique is a multi-faceted business in Fernie, and it's proven to be a welcome addition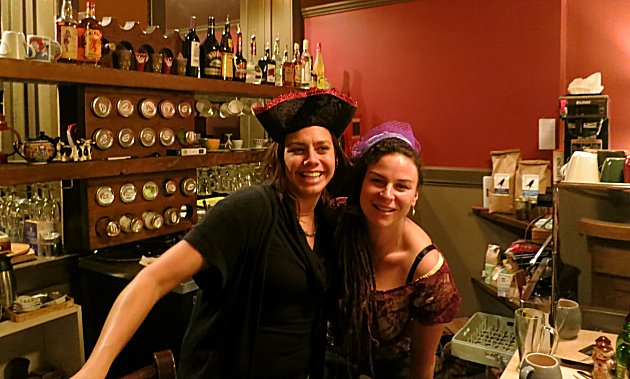 Stephanie Fleming and her business partner, Coralee Salomons, opened Infinitea T-Bar & Boutique with what they refer to as a "hybrid business concept" in mind. This Fernie hub is a delightful place to relax and try locally sourced, top-quality menu items.
"We are primarily a tea and coffee lounge," said Fleming, "offering five different organic loose leaf teas and three different artisan coffee blends. Our teas and coffees are all sourced from local small companies so as to support local businesses and provide a more wholistic approach in terms of our carbon footprint. All of our teas, coffees and honey are also available for retail sale so the customer can continue to support these businesses outside of Infinitea."
Infinitea is fully licensed, so you can sit down and enjoy boutique beers, house wines and other alcoholic beverages. For an interesting twist on the traditional coffee lounge vibe, there are even specialty teas and coffees that have liquor added.
In addition, you can choose from a full tapas menu. The dishes are all made in-house from the freshest ingredients and no processed food items are used. There are ample choices for those who seek gluten-free or vegetarian options. Don't forget to save room for dessert—homemade treats such as chai cheesecake, fruit pies and chocolate fudge oat bars are available as well.
Here is where the hybrid part comes in: Infinitea branches into numerous other areas not normally associated with a coffee and tea lounge.
"We also sell a range of retail goods on consignment including paintings, jewelry, clothing and crafts . . . all handmade by local artists and craftsman," said Fleming. "Further to this we offer a range of entertainment and education workshops to allow people to engage and further their creative sides."
The entertainment includes Friday night live acoustic shows, where local talent can show off their skills between 7 and 10 p.m. The shows are free to attend and folks of all ages are permitted to be there, making it an ideal night out for the family. Also be sure to check out the Sunday Roast Dinner, cooking classes on Tuesdays (while the cafe itself is closed) and Wednesday evenings designed for the ladies, with dance workshops and tarot reading sessions.
"(I love) the sense of community and how a business like Infinitea can really bring people together to interact with each other in a creative, inspiring and meaningful way," said Fleming. "There was a moment when I looked around and saw people using the space exactly as I had envisioned it. In one corner people were teaching each other to play backgammon while in another section a guy was playing guitar while people sang along and all around I saw people chatting and laughing and sharing each other's company. It is also amazing when musicians thank us for the opportunity to play, saying things like 'I wrote these songs when I was 17 and haven't had the confidence to play them since.' Or when Milarky the live painting artist who hadn't painted in a long time had a hugely successful event at Infinitea and said afterwards 'thanks, I can paint again now.' It's those moments that make me incredibly proud and make me realise that Infinitea is much more than just a business."
For more information, call 250-430-7168 or visit them on Facebook at www.facebook.com/InfiniteaTBarBoutique.