Keeping it fresh and flavourful
Endless Harvest brings a healthy variety to Kootenay diets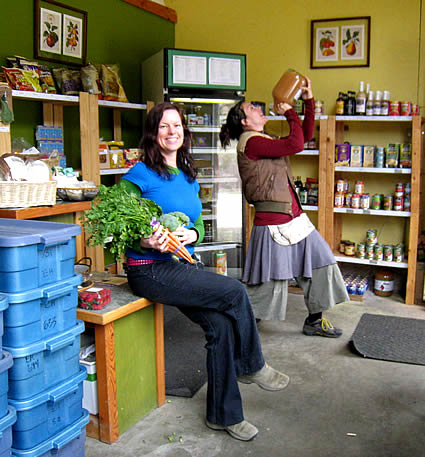 Velvet Kavanagh and her team at Endless Harvest have been bringing a healthy outlook to the Kootenays since the business opened in July of 1998. From their market in Ymir, B.C., the company makes regular deliveries of organic produce to homes throughout Nelson, Castlegar, Trail, Rossland and surrounding areas. The market itself also has a selection of groceries and locally made products, and even serves as the Ymir Canada Post outlet.
Kavanagh has had many proud moments as a business owner. From making her dream a reality, to having staff members that demonstrate hard work and enthusiasm, she has thoroughly earned the positive feedback her customers have expressed. Endless Harvest was designated a bronze award for Best Fruit Stand in 2005's Kootenay Business Reader's Choice Awards, and received the Community Futures Economic Impact Award for 2007.
"Our website lets people place their orders quickly and easily, or they can leave it up to us and be surprised by what they get each week," said Kavanagh. "We are in the process of developing a new website which we are quite excited about. As we are the only place in Ymir that sells fresh produce and we have the post office, we help make Ymir a more sustainable community and reduce the need to drive to town."
Meeting the challenges
Over the past few years Kavanagh has overcome her share of challenges, but she has learned how to deal with matters such as bookkeeping and management as her knowledge base grows.
"Opening the business was a personal challenge," she said, "taking that leap from paper to reality and hoping that people would be supportive. About seven years ago I had a serious break to my leg, which put me out of commission for six months, the first two of which were a complete haze. I was hardly able to work at all, but thanks to my incredible co-workers, and disability and business overhead insurance, we made it through that."
As the trend towards health-conscious eating habits increases, a market offering organic produce in a convenient and affordable form is appreciated. With more than 20 years of experience in the natural nutrition and health fields, Kavanagh has seen these trends shift in a positive direction.
"Many of our customers tell us they eat much better when using our service . . . They don't get stuck in a rut of always eating the same few vegetables," she said. "Because they can shop online, they save time too, which contributes to less stress and more time to do more enjoyable things."