Get away from it all
Aries B&B and Wellness Resort offers relaxation and rejuvenation to their guests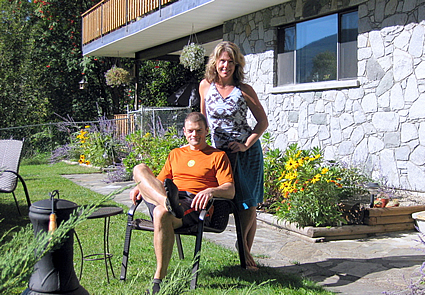 Maureen Uhrich and Henry Moscalenko had operated a wellness company for three years in Alberta, when they decided to relocate. They were seeking an area with clean air and water, in a vibrant natural setting. What better place than the Kootenays? In spring of 2010, they opened Aries B&B and Wellness Resort in Nelson, a city known for being progressive and health-conscious.
"The location of our resort makes it easy to relax the minute you arrive," said Uhrich, "(with) the background of the Kootenays and our treed acreage on the mountainside overlooking the lake . . . We offer great healthy food, massage, hikes and all of our wellness services to our B&B guests—and we are very flexible with their needs."
A wealth of experience
Uhrich and Moscalenko are both certified personal trainers; they have an extensive background in the health industry. They also bring in other local professionals in order to offer the guests a wide spectrum of services—allowing them to customize their ideal retreat experience.
"Henry has a background of 25 years in the wellness world," said Uhrich, "starting in the Soviet Union being educated in nursing, massage and being very involved in martial arts and conditioning training. He brings the backbone of holistic wellness to Aries resort."
In addition to being a personal trainer, Uhrich has a certificate from Queens Executive College in Leadership Operations and is a master grad from Rapport Leadership International. She also has a passion for cooking, and holds an advanced wilderness first aid certification.
Plans for fall
Starting in the fall, Aries Resort is offering a range of wellness, weight management and corporate retreats. They will also make personal training and wellness consultations available to guests and locals alike. The increasing trend toward health awareness has been a motivating factor.
"People are certainly becoming more aware of the importance of health and having a balance in their lives," said Uhrich. "Retreats make it easy . . . they allow people to get away from day-to-day life and give them the time to really focus on themselves. We are seeing more that people are trying to find a balance of busy work and family life and taking care of themselves."
Location:
The address of Aries B&B and Wellness Resort is:
2093 Kettleson Rd.
Nelson, North Shore
British Columbia
V1L 6K3
It is located six kilometres east of Nelson on Hwy 3A.