Fitness for the whole community
Core Fitness has been a favourite spot for active Cranbrook residents since the gym opened in 2009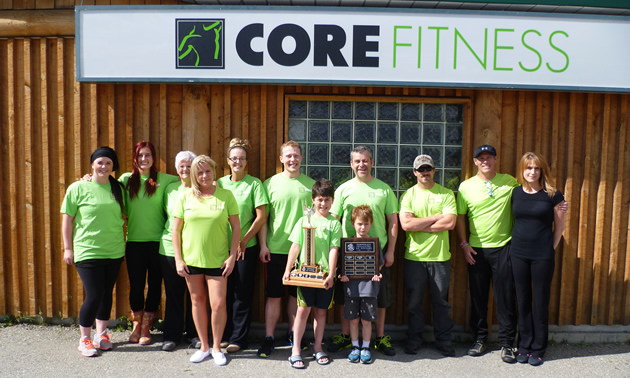 For the past four years, Bernie and Christie Kennedy have been co-owners of Core Fitness, a multi-faceted fitness centre in Cranbrook. The Kennedys grew up in the area; however, they spent some time in Vancouver before deciding to come back to the East Kootenay.
While in Vancouver, Christie earned her degree in human kinetics from UBC and spent ten years working as a personal trainer and health and wellness co-ordinator. Bernie's background in fitness and business also came in handy when the couple decided to come home to Cranbrook and raise their two young sons here.
"We had thought about opening a gym many times," said Christie, "so when the opportunity came up to lease the facility and start our own business, we jumped at the chance. On the coast there were community centres in every municipality that offered specialized programs for every age and fitness level, and we really wanted to bring those programs to Cranbrook. Some of the programs we introduced included Hot Mammas (baby and me fitness classes), Fit 4 Two (prenatal fitness classes), Learn to Run 10k, Seniors Learn to Weight Train, Boomers Weight Training, Fit 4 Golf, Fit Kids and many more We have the largest variety of group fitness classes in town, closely following current trends in the industry and providing that something for everyone."
Visitors to Core Fitness are treated to exceptional customer service; everyone is given a warm welcome. A qualified team of staff is on hand to assist, and they are kept up to date with the most current and safe training techniques.
The facility is constantly being upgraded, and you can get your adrenalin pumping with some of the latest equipment on the market. Try the incline trainer (which offers up to a 30 per cent grade incline), an Olympic lifting platform, battling ropes, boxing bags and sports-specific training equipment. Up to 30 people can be accommodated in the studio space.
Christie and her family have enjoyed the community, as well.
"Living in Cranbrook has been a great move for our family," she said. "We enjoy feeling like part of a community, knowing our neighbours and being able to contribute to the health and wellbeing of our town. We are very proud to have received two awards this year, including the Readers Choice Award for Best Fitness Center and the Entrepreneurial Spirit Award through the Chamber of Commerce Business Awards."
Core Fitness is located at 209 - 16th Avenue North (next to the local bingo hall), and can be reached by phone at 250-426-7161.