Botanical bounty
This South Slocan business has everything you need to make your garden grow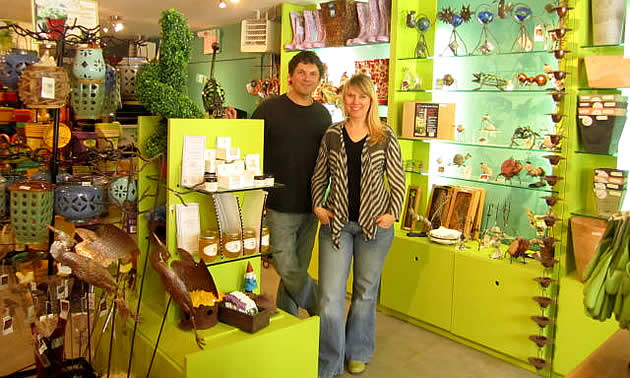 About nine years ago, Mark and Lori Loran of South Slocan purchased Rainforest Sprinklers—a company that produces reliable, eco-friendly sprinklers that suit the needs of professional growers and home gardeners alike. After they built a warehouse and enjoyed substantial success at the trade shows, they decided to start a garden centre to complement their current business.
"Mark grew up in England with a family of people who loved to garden," said Lori. "After the warehouse was built we got really focused on growing the Rainforest Sprinkler brand and this past year sold the company to another larger Canadian company. We have taken four years to get to the point of creating DIG Garden Centre and it was well worth the wait."
DIG Garden Centre is a dream come true for any botanical-minded individual. The Lorans bring in high-quality, innovative merchandise from manufacturers and distributors across North America, and it is their goal to provide a one-stop gardening experience.
"It has been my dream for quite a long time to open a high-quality garden centre," said Mark, "which would combine the best in all aspects of gardening and gifts. Reaction from customers has been excellent and we are happy to take on board suggestions of items they would like us to stock in addition to our already extensive selection."
Find what you are looking for
Customers can not only pick up trees, shrubs, perennials, annuals, pond plants and veggie starts, but also all the fertilizers, soil varieties, fencing and garden furniture they could wish for. There are also several attractive gift items, and even gardening gear such as shoes, hats and gloves.
"We think, and have heard from our customers, that we are the only full garden centre in the area to offer such a wide range of products," said Lori, "all beautifully displayed to give inspiration and a unique experience. You don't have to have a green thumb to enjoy coming into DIG. People are not overwhelmed when they come into the greenhouse and walk around the grounds because we have a compact and easy layout to get everything you need."
The store has ample parking, and is located conveniently right off Highway 3A, halfway between Nelson and Castlegar (turn left behind the Kootenay Savings Credit Union).
The customers come from as far as Kaslo, Nakusp and Rossland to shop at DIG, and the Lorans have been thrilled with the eager reception they've experienced since their grand opening in April.
"We love the feeling of community living and working in South Slocan," said Lori. "People just seem genuinely thrilled that we are here and that they can afford to garden locally with such a great variety of plants and other items not normally found in the area."
Stay in the loop and get all the latest updates on DIG Garden Centre. Be sure to keep checking the website, and to visit the DIG Facebook page (don't forget to "like" them).