Award-winning products, exceptional service
Elvira Brunner and Daniel Weber have brought Crescendo Revelstoke to new heights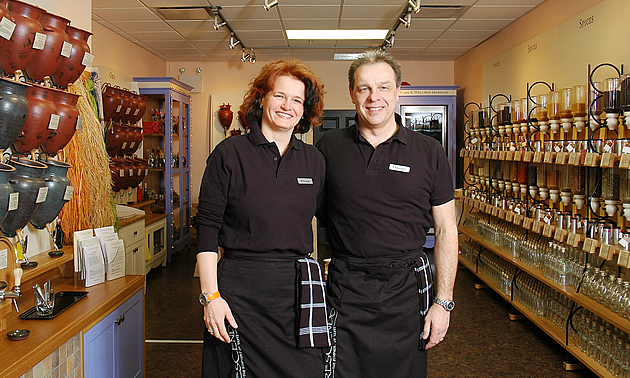 Crescendo Revelstoke is a high-quality franchise business carrying spices, oils, vinegars and other products. The B.C. and Alberta franchise rights are owned by Elvira Brunner and her husband, Daniel Weber—a dedicated couple that has been making tremendous headway with the company. The Revelstoke store was opened in October of 2009, and there will be another store opening in November, 2011 in Mission Park Mall, Lakeshore Road in Kelowna.
"We offer approximately 70 spices, 60 different delicious oils and award-winning vinegars from all over the world," said Brunner. "We also carry a newly developed range of natural skin care products without preservatives."
See, sample, savour
Crescendo's motto is "See, sample, savour," and the store has several features that make it unique. For example, customers are given the opportunity to sample and learn about every product in the store. Knowledgeable staff members are eager to explain all important information and uses for each item. Another perk of shopping at Crescendo is that you can choose the quantity and packaging of any given product.

"Once you decide what to buy, you can choose exactly how much, and what size and type of bottle you prefer (fancy, for a gift, or just practical)," said Brunner. "We then, if you prefer, will decorate your purchase and personalize it – at no cost to you."
A legacy of excellence
Crescendo products are world-renowned, garnering recognition from international taste testing events and winning the Franchisor Award 2010 in Germany. The Revelstoke store keeps up the good work, with the owners winning the Entrepreneurial Excellence Award 2010 from the Chamber of Commerce.
"But even better than this, is when customers from all over Canada are stopping in town for our shop," said Brunner. "We just had a couple from Calgary (who) told us that they stopped on Sunday to buy some products from us, but we were closed. They saw that we are open on Monday so they decided to stay overnight especially to come shopping at our store. That's the best feedback we can ever get."