A one-stop shop for quality tea and gifts
Tigz Tea Hut in Creston is the place to go for friendly service, high-quality teas and gift items to suit all preferences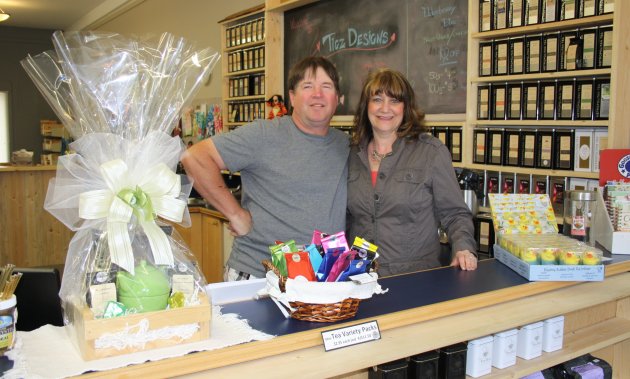 In November of last year, Tigz Tea Hut opened its doors on Creston's main street. Lori Cameron and her husband Bill took the opportunity to open the downtown shop after having built up their tea business over the past two years.
"With the gift basket portion of our business, we offer the best products we can find . . . including local and other unique high-quality items," said Lori. "It is very important to us that our customers are happy with the gift they are giving, and we want to make sure everything inside is something that will be enjoyed by the recipient."
The shop has pre-made gift baskets, and custom baskets can be requested at no extra charge. You can also request handmade wooden crates that the Camerons make themselves, or gift bags with matching tissue, ribbons and tags that are prepared while you wait. This service includes all wrapping materials and ranges from $1.50 to $2.50.
Tigz Tea Hut ships all across Canada (shipping is free on tea orders over $75 in B.C. and Alberta), and delivery is provided in Creston. Delivery is always free to the Creston Valley Hospital.
If you enjoy trying new types of tea, or if you have a particular favourite, chances are you will find something in the shop that suits your fancy.
"We carry over 170 types of premium global teas as well as high-quality tea accessories," said Lori. "We have a tea of the month, which gives our customers a 10 per cent discount on all sizes. Our featured tea is available to sample every day of that month. We offer over 100 types of loose-leaf tea to go, as well as a daily tea and biscotti $4 special."
The Camerons are always bringing in new products, and in the near future they plan to start serving fruit and herbal teas on ice.
The store is open from Tuesday to Saturday, 10 a.m. to 5 p.m., and customers can also order online from the company website.
"If you need a gift in a pinch, if we are able to we will gladly meet you at the shop," said Lori. "Some of our customers have out-of-town visitors and want to bring them to our shop, but it happens to be a day we are closed. So we set a time and open up for them. These things are special to us, to do little extras for our customers who have supported our business. If it wasn't for them, we wouldn't be here."
The Camerons' new venture has been warmly received by their customers, and they have a great appreciation for their supporters.
"There are so many wonderful things we have experienced since we've opened our shop," Lori said. "We both get a thrill out of bringing smiles to faces and going that extra mile. We have had so many positive and heartwarming comments."