Think outside the tube
Glass jars are filled with natural toothpaste made by Nelson Naturals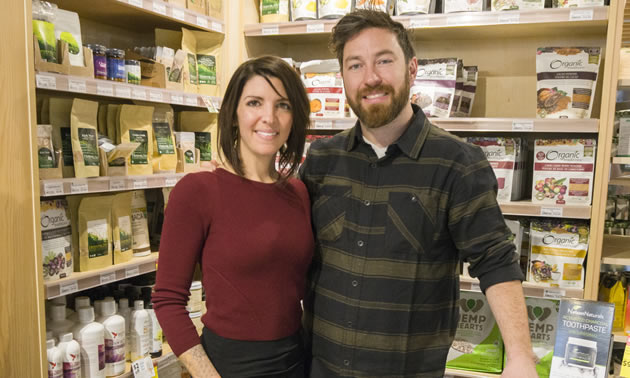 Who left the toothpaste open? How do you squeeze the last bit out of the toothpaste tube?
These are questions from the past. Welcome to a new era with glass jars of toothpaste.
"It's not the plastic tube you grew up with," said Kevin Hagel, who runs Nelson Naturals with Dana DiPonio. "That's a good thing. Single-use plastics are filling our landfills and oceans, and it's clear we need to make changes."
The website contains the story: "Nelson Naturals began as a quest to create the best-quality toothpaste, while avoiding the controversial and harmful chemicals present in nearly all of the major brands. The result is Nelson Naturals Mineralized Toothpaste. Using simple and high-quality ingredients including colloidal silver and hardwood xylitol, we have created a unique product that is not only as effective but better than any other toothpaste available.
"Our unique formula kills bad breath and cavity-causing bacteria, not just in your mouth, but on your toothbrush and in our glass jar so you can dip and re-dip your brush with no concern of contamination."
And if someone leaves the jar lid off, it's no big deal. If the toothpaste has dried out, just add a touch of water and stir with a metal spoon.
Nelson Naturals offers six types of toothpaste, from whitening and cinnamon to strawberry banana for the kids in your household. The products are sold in 1,500 locations throughout Canada and can be found in many Kootenay stores. The company also pledges to give five per cent of its profits to animal charities, local and abroad.
Hagel and DiPonio answered our questions below.
What qualities does a successful business person need in today's world?
You definitely need persistence—it's a key ingredient for your business's success. Compassion and forward thinking allow you to be one step ahead of the market so that you can create a product today that will cater to tomorrow's trends and mindset.
Finish this sentence: Entrepreneurs need a lot more _____.
Entrepreneurs need a lot more people to be conscious of supporting local, Canadian brands.
What's a common myth or misconception about entrepreneurship?
Success happens overnight. Success is a long and windy road, and there really isn't a final destination we're trying to get to. We are just trying to implement positive changes in our community and stay creative.
What makes the Kootenays attractive to an entrepreneur?
The laid-back vibe, natural beauty and like-minded people create the perfect supportive atmosphere to stimulate creativity and encourage entrepreneurs to thrive. The Kootenays are truly unique in every way imaginable, and that alone creates inspiration. Inspiration and entrepreneurship go hand in hand.
What trends have you observed in your community that might impact the local economy in the next five years?
In our community, we are seeing more and more people becoming aware of the importance of buying and supporting local. The support for small business owners is better than ever. Hopefully this will result in these businesses growing and creating local, sustainable jobs for Nelson.