Determination meets inspiration in the West Kootenay
Meet Sydney Black, executive director of the Nelson & District Arts Council and founder of Black Productions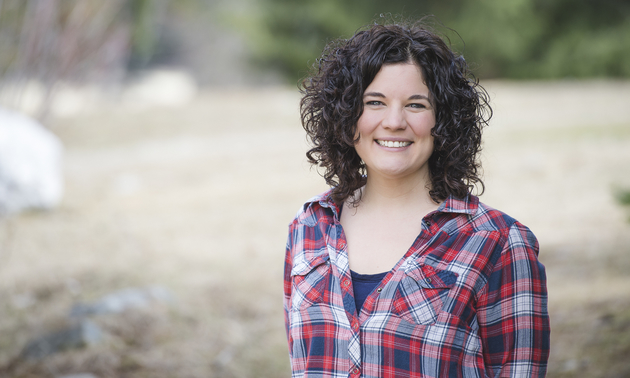 In addition to being the executive director of the Nelson & District Arts Council, Sydney Black is also the artistic director and founder of Black Productions. Her self-described superpower? "Grit. Once I've focused on an idea I will tirelessly see it through, even if it gets complicated."
We asked Black a few questions about her experiences:
Describe your business/organization in a few sentences
The Nelson & District Arts Council (NDAC) is a municipal non-profit organization that focuses on artist education, exhibition opportunities for artists and arts lovers and liaising with the City of Nelson and the Nelson area arts organizations to ensure that the needs of local artists are met.
What's something that happened in your business recently that you were especially proud of?
In the last three years, NDAC has seen a massive turnaround as an organization. When I started my job in the spring of 2016 we were at a risk of losing the majority of our provincial and municipal funding and were focused solely on programming our ArtWalk event as well as an artist retreat and literary award. In the last three years we have grown from a board of four to a board of 11, our membership has gone from 40 to 99 members, we have increased our programming immensely to ensure that all artistic genres are represented, and our budget has grown 140 per cent. We are providing local artists with one-on-one sessions to assist them with finding funding options as well as connecting emerging and new-to-town artists with other, established artists locally to assist with mentorship relationships.
Our newest feather is the Nelson International Mural Festival, which is a celebration of all things public art. In the first year of the festival (2018), eight murals were created between June and August, and a three-day festival was thrown in celebration of the pieces of public art. The festival is comprised of artist talks and panels, workshops on dance, public art, becoming a professional muralist, hip-hop music, the large-scale art process, appreciating not appropriating cultures, documentary film screenings, street theatre, dance performances, a community gathering opening (and a) family-friendly street party featuring a diverse group of artists from Vancouver who represent Nelson's community members that see little representation: people of colour, Indigenous people, LGBTQ+, differently abled people. All events are free of charge and held in fully accessible community spaces, providing opportunities for all members of the community to take part. The murals continue to have the opportunity to affect the community and continue to provoke conversation and inspire creativity for their life span.
Through the festival, NDAC increases the cultural vibrancy of Nelson by engaging local, national and international street artists, muralists, creators and arts lovers through large-scale public artworks and educational opportunities. NDAC is shining a light on local cultures and histories, encouraging collaboration and community building. The festival is an inclusive event for all cultures, genders, ages and abilities. In 2018 our festival weekend was run on a shoestring budget, with the majority of involved artists presenting at a reduced wage. We look forward to increasing our festival offerings and including more local artists in 2019.
Tell me about something you struggled with to get your business established and how you overcame it.
Our organization, which is 50 this year, was stagnant, and the board and staff have fully revitalized the organization through increasing dialogue with local artists, collaboration and communication with other arts organizations and our public profile by producing events that speak to the whole community.
In terms of your business, what are you most excited about in the future?
Seeing the continued growth of the arts council and mural festival. Our community relies heavily on our cultural tourism and was at one point named North America's Best Small Arts Town. We need to ensure that the artists that live here, who are the reason that we have that title, are being paid fairly so that they can survive. I love the idea of being able to hire as many artists at living wages as I possibly can. Every dollar we spend locally goes toward feeding local families and maintaining this amazing little cultural mecca that's been created here.