Bringing out the best in Creston
Amanda Murray draws the Creston community together and supports local causes with her business, AM Event Coordination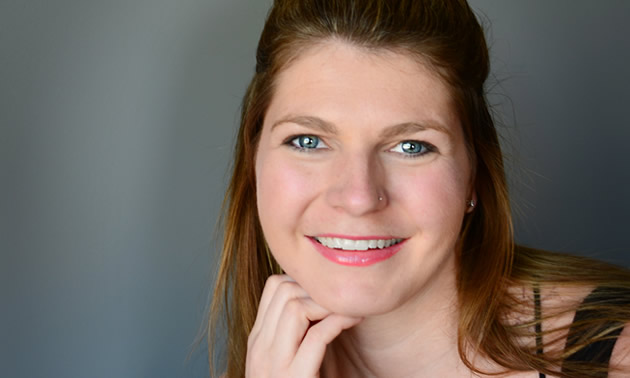 When she started her event planning business in Creston, Amanda Murray was clearly on the right track. In just a short while, AM Event Coordination grew to include a team of three staff members, with the strong support of Creston customers. Murray's goal is to continue boosting her community, bringing more tourism and entertainment to the town. We asked her a few questions about her business and life.
Describe your business in a few sentences.
AM Event Coordination is an event-planning business based in Creston. We strive to create awesome experiences and memories through the creation and delivery of quality events. From personal parties and weddings to corporate events and fundraisers, we love to put our creativity and organization skills to the test, and since our launch in May 2018, we have had the pleasure of working with some amazing brides, businesses, community groups and residents in and around the Creston Valley and beyond.
What's something that happened in your business recently that you were especially proud of?
Following an incredibly busy first six months in business, during which we were embraced and supported by the amazing people of Creston, the AM Event Coordination team has grown from just myself to a team of three.
I would have to say the recent event that brought me a great amount of pride was the December 2018 Juice FM Holiday Jam. I have really enjoyed working with local individuals and businesses to create events and experiences, but the Juice FM Jam was above and beyond due to the community excitement and generosity it generated.
Juice FM, the local radio station, contacted me in November 2018 to assist them in planning a fundraising event for the community. The radio crew, the East Kootenay Foundation for Health and AM Event Coordination teamed up to throw an outdoor community party with a goal of raising $10,000 for the Creston hospital. By the end of the night, we had not only reached our $10,000 goal, but we blew it away by raising over $24,000! It was an amazing night and an awesome display of the love this community has for itself.
I had a side goal in planning that event, when I learned from the Juice FM crew that the teeny Creston radio station rarely made it into the company's newsletter. I told Klein, the radio host, that we would not only get him into the newsletter, but onto the front page with the event. We did do that, but his involvement and excitement for the event also got him an award nomination. It was definitely an event to be proud of, and the generosity and support I felt that night has encouraged us to move forward with another Juice FM Holiday Jam, which is already in the works for December 2019 (with even loftier goals this time!).
I have been inspired to donate my services to the local women's shelter to help them get an amazing fundraiser organized for June 2019. It is an honour to get to create events that not only create a new or unique experience for the community, but also to be able to assist local non-profit groups in finding ways to use events as a platform for raising funds.
Tell me about something you struggled with to get your business established and how you overcame it.
My husband is in the RCMP, and we just moved to Creston from Canmore, Alberta, on December 1, 2017. This latest transfer marked the end of a decade-long career as an administrative assistant in the federal government for me. Upon our arrival, I heard from anyone I spoke to that there were no jobs here in Creston, and I started formulating the idea of starting an event planning business. I applied for jobs while the idea was taking shape, and then I realized I was dreading going back to an office environment in a new town again.
As a newcomer to this tiny, tight-knit community, my biggest obstacle was figuring out who to talk to—I knew nobody! That is when I became aware of the Local Entrepreneurship Accelerated Program (LEAP!) through Kootenay Employment Services. I applied, was accepted into the program and was able to test my business model with the support and knowledge I gained there. I was forced to overcome my uncertainty and my shyness, and to speak to as many strangers as possible to test my ideas. Those strangers have since become friends, and this tiny tight-knit community has embraced and welcomed me in a way I could not have imagined when we moved here.
I launched my business at the end of the LEAP! Program, completed an Event Planning Certificate program through College of the Rockies and have been accepted into the Self-Employment Program through Community Futures, which have all allowed me to hone my event planning and business management skills.
Less than six months after launching my business, I received devastating news from Regina, Saskatchewan. My father has passed away suddenly and unexpectedly at the age of 59 on a Monday afternoon. I was and am still devastated by this loss, and my business has basically been the reason I force myself to put on pants and face the world every day. I went back home for a week to plan my dad's funeral and came home fully intent on going into hiding and taking a break until January.
In the weeks following my return, I was contacted about three separate event contracts, including the Juice FM Holiday Jam fundraiser I mentioned earlier, and busied myself with the joy of planning events. Seeing the happiness on the faces of my clients and the community helped relieve some of my grief and saved me from my sadness. I struggle with my dad's death every single day, and this community has rallied around me, bringing me joy through my tears and giving me a reason to move forward. These strangers embraced me, and I hope that every event I create for them shows them how much I appreciate their support.
What's your superpower and why?
My fun superpower is my passion for making people happy. I get so excited when I see other people having a good time, and event planning allows me to put smiles on faces every single day. I just love being able to create memories for and with people. There is no better feeling than knowing that I have contributed to people enjoying themselves.
My super boring superpower is my organizational skills. I love calendars, lists, logistics and planning. This superpower served me well as an administrative assistant and is my saving grace in planning events. I think I have a knack for finding the balance between being the person in the room who can make decisions or suggestions, and being the person who disappears when necessary so the spotlight can shine on the bride, the party host or the band (wherever the spotlight is supposed to shine). My clients are able to trust that I will get things done, and I have made several event crises "go away" because I just make things happen. I have a running list in my head of the things that could go wrong and backup plans for all of them.
In terms of your business, what are you most excited about in the future?
I am super excited to see how far I can go in terms of creating events. Last summer I helped four family-friendly outdoor movie nights for the community, and they were a huge success. We're continuing on with those this summer and adding some extras into the mix. I am thrilled to be able to assist with various fundraising events in town as the event co-ordinator or as a sponsor, or with my photo booth in tow.
AM Event Coordination has already grown bigger and faster than I expected over the last few months, and I cannot wait to see where this journey takes me next. I am really looking forward to helping this community grow from a little town that "rolls up its sidewalks at 5 p.m." into a bustling community with increased tourism, industry and pride.