Fraser Blyth: Designing memorable places
Through effective design, this entrepreneur enjoys making great places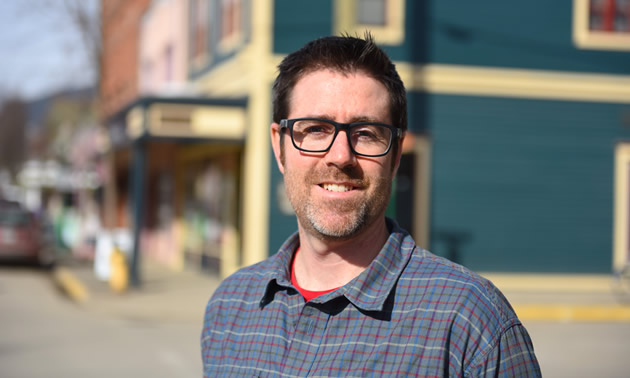 Although under 40 years old, Fraser Blyth is already leaving his mark on his community.
As a community planner and urban designer, Blyth moved to Revelstoke in 2008 and started a partnership, Endemic Mountain Design. After completing several projects throughout British Columbia, Blyth moved on to start Selkirk Planning & Design in early 2010.
When proposing Blyth for Kootenay Business's 40 Under 40 award list, his nominator said, "Fraser has a passion for urban planning and our ever-growing rural community. He is forward-thinking and an entrepreneur to watch as he will certainly have a positive impact on the future of Revelstoke's design and growth."
Currently, Blyth is working on a trails strategy for the City of Revelstoke along with Jason Jones of Larch Landscape Architecture. Their inventorying has already added 422 kilometres of trails to the existing 150 kilometres the City had mapped previously. "The main objective is to link each neighbourhood together through a well-connected, accessible trail network," said Blyth.
"Making great places through strong planning and urban design is an important part of every community," Blyth said. And his answers below attest to his spirited commitment to his profession.
What is it about your work that has you excited to get out of bed in the morning?
As an urban designer/planner, I really enjoy creative problem-solving. Most projects are complex and have a lot of moving parts, and it's really intriguing to try and solve most or all the issues by designing something new or proposing a series of fixes.
I also try and use 3-D to communicate my designs as often as I can. It can be challenging to understand a flat, top-down map. Working in 3-D means you can display more information and more effectively communicate what your solution will look like in real life. That part is just so much fun for me.
What has motivated you throughout your entrepreneurial journey?
I really believe in the kind of work I'm doing. I recognize that working on the built environment means that you leave a mark on the community for future generations, whether it bears your name or not. Building great places and a sense of place are my primary focus. I'm motivated to better my craft all the time and to challenge myself and my clients to strive for the same.
What trends have you observed in your community that might impact the local economy in the next five years?
To me, there are two main trends that will impact Revelstoke in the next few years: development and high-tech workers. Development has seemingly taken off over the last two years. The City and community are figuring out how to deal with rapid development. Again, I believe this is where considerate planning and urban design can play an important role. Over the next five years it will be important to ensure that we are approving and building great, engaging public spaces that blend future needs with the tradition of Revelstoke's heritage, rather than just getting things done as quickly and inexpensively as possible.

I'm also a member of the Mountain CoLab, a co-working space located in downtown Revelstoke. We've had so much interest in desk space and offices from high-tech workers who are either in town or want to relocate to town. The influx of these workers will bring new and innovative businesses and spin-off business opportunities that will allow Revelstoke to be competitive with larger communities, while offering a quality of life that is second to none.

The influx of new people—combined with innovative planning and development—will ensure that Revelstoke continues to develop a diverse, sustainable economy with ever-growing opportunity.
Did we miss anyone? Meanwhile, if you think we missed someone who should have been nominated, we'd be happy to consider them for inclusion on next year's list. Click here to nominate your pick for the 2018 40 under 40 list.
2016 40 Under 40 List See who made the 40 Under 40 list in 2016.