Rebuilding foundations in Salmo
Salmo, B.C., has a new mayor, Stephen White, and an entirely new council, too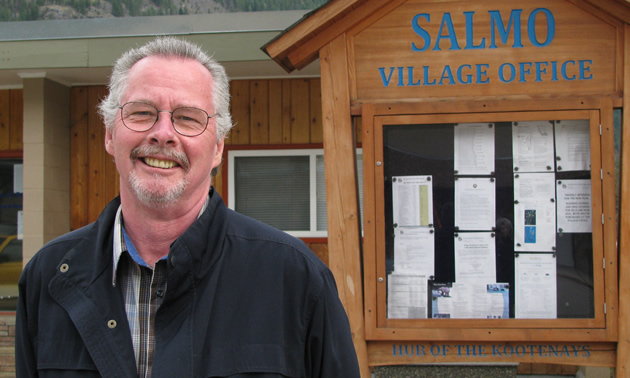 Though Stephen White became a full-time resident of Salmo, B.C., a little less than five years ago, his roots in the area go back to the 1970s when he lived near Salmo. Work demands took him elsewhere—work that involved dealing with the federal government, including federal tribunals and labour boards and parliamentary committees—but early retirement gave him the opportunity to come back to the Kootenays.
White's first-hand knowledge of the area, his involvement with a number of local boards and committees, his attendance at council meetings and his wish to contribute to the community have prepared him for a leadership role in the village. In November 2014, he was elected mayor of Salmo.
The Salmo council meetings have a history of high citizen attendance, and White and his brand-new council have moved their meetings from the village office to the Salmo Valley Youth & Community Centre so that everyone can be accommodated. White is pleased about the level of citizen engagement.
"Previously," White said, "as more and more issues came before the public in terms of how the village was operating, more and more people started to come to council meetings. Since December 2 when we took office, we have yet to have a council meeting where we could have all fit in the old office. At our recent town hall meeting—our first ever—we had 84 members of the public attend."
A safe and solid foundation
White and the village council have been hard at work since December, catching up with administrative work; the most pressing issue was to file audited financial statements. The 2013 statement has now been filed and the statement for 2014 is being completed.
"One excellent decision made by the previous council was an agreement with the City of Nelson for them to provide financial services for us," said White. "Our service contract with Nelson allows us to comply with the province's community charter statute which requires us to have a chief financial officer. This arrangement has worked very well for us so far."
White said that he and the council came into office realizing that they needed a clear picture of the village's finances and also an updated asset management plan and official community plan. Without these foundational pieces in place, plans for future growth and development will be unrealistic.
"You can't move ahead if you don't know where you're starting from," said White. "We're building the systems that are the foundation for our future efficiency and success. The payoff from what we're undertaking will last a long, long time, and allow us to move on to other issues. Once we have the real picture, we can bring the public into the process of making plans that make sense."