Mica Dam at full power
Installation of two more turbines at the Mica Generating Station brings the facility to full generating capacity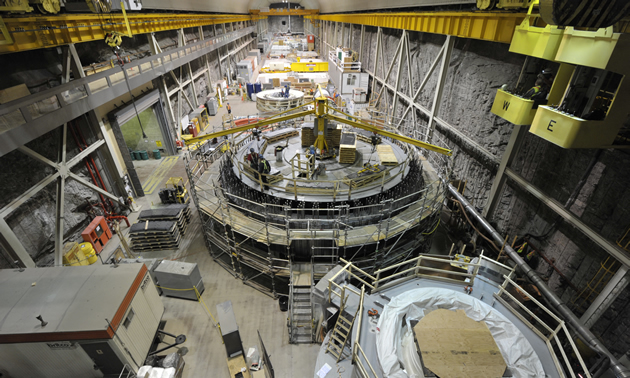 In the winter of 2015, the Mica Dam north of Revelstoke, B.C., will be fully outfitted with two more power-generating turbines. Four turbines, also known as generating units, were in place when the Mica Generating Station was completed in 1973, and the preparatory blasting and excavation had been done to allow for installation of two more at a later date.
The process of installing the final two massive, German-made turbines was begun in 2010, and BC Hydro's budget for the project—which included upgrading the aging switchgear equipment and constructing a new series capacitor station to handle the increased power load—was $900 million. Each turbine measures 6.45 metres in width and weighs 137 tonnes, and transporting them from Germany was a marathon effort that involved ships, trucks and barges.
Turbine No. 5 is already installed and functioning, and installation of No. 6 will be completed this winter. The two additional turbines are expected to add about 1,000 megawatts of power to the generating station's output, bringing the total to roughly 2,805 megawatts. Power produced by the two new generators will be enough to supply 80,000 homes.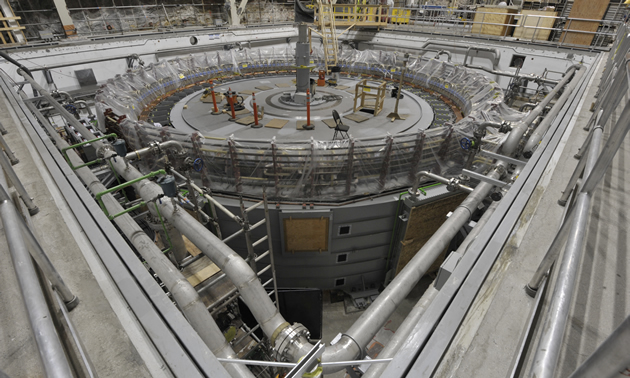 Electricity is delivered from generating stations like Mica to demand centers like Vancouver via high-voltage transmission lines and then by a network of distribution lines to individual customers.
"We have had up to 400 people working at site on the project, and we currently have approximately 125," said Graham Fenwick, senior construction manager at the Mica project.
Fenwick has been working on hydroelectric projects in the Revelstoke area for eight years. In 2007, he moved from Vancouver to Revelstoke to take on the senior construction manager position for the Revelstoke Unit 5 (500-megawatt) Project. After the Revelstoke Unit 5 team successfully completed the project in 2010, he was asked to stay on to complete the Mica (1,000-megawatt) Project.
There are challenges to working on-site at a large hydroelectric project—the projects are often located in remote areas with harsh environmental conditions and camp accommodations. Fenwick said that the work usually continues for several years on a 24-hours-per-day, seven-days-per-week schedule, using several shifts.
Not the least of the challenges is acquisition of parts from all over the world to supply a variety of contractors who need to get their portion of the job done on a schedule that fits with the progress of the entire project. However, as the Mica project nears completion, Fenwick acknowledged his satisfaction with the job.
"I'm very proud to be part of the team of skilled craft workers, contractors and BC Hydro employees that have added over 1,500 megawatts to British Columbia's electrical system," he said.