Getting from here to there
Integra Air is making it easy to commute from the Kootenays to northern Alberta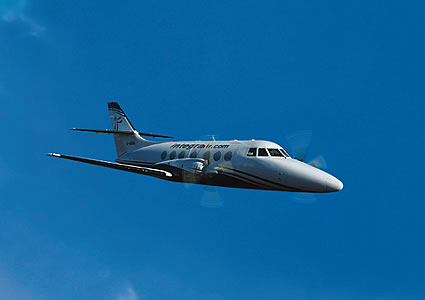 An effort to promote the Kootenays and communities like Cranbrook and Kimberley as a home base for much-needed workers in northern Alberta's oilsands is taking flight.
In June, Integra Air launched air service linking the Canadian Rockies International Airport with Edmonton, and now the company is working with East Kootenay businesses and municipalities to promote the region.
Integra Air's CEO, Brent Gateman, said it is estimated that there are already several hundred local residents who travel to jobs in the North, and there is the potential for more Kootenay residents to gain employment in the oilsands, which will need thousands of new workers in the coming years.
Gateman said with Fort McMurray bursting at the seams, just one of the oilsands companies already transports 30,000 employees a month from other communities to its northern workplace; that number is expected to grow to 60,000 per month by 2014.
"Where do we find these people and how do we get them to and from work, because there is no place to live here?" is a question many companies are asking, said Gateman. "This really creates the perfect opportunity for someone to come in (to the Kootenays), purchase some real estate, move the family in, and then go back and forth to their (northern) job."
Along with tapping into the economic growth in northern Alberta, the air service has made it easier for people from Edmonton and the surrounding area to head to the East Kootenay for vacations or to visit family and friends.
Gateman said the new service might also encourage more northerners to buy real estate for recreation purposes, since it is more convenient to take a quick hour-long flight to enjoy their vacation home rather than making an eight-hour-or-more drive.
Gateman said his company is happy with the response so far and is looking forward to growing the air service. He said the airline has had excellent support from local resorts, tourism agencies and municipalities—and together they are working as a group to try and sell the region as a whole.
Integra Air continues to fine-tune the existing air service from the Cranbrook airport to Edmonton. The initial three-day-a-week service that started in June has been expanded to four days, and flight times have been shifted to better match the shift schedules of northern workers commuting to their jobs.
Further adjustments will be made for the Christmas vacation season and then flights are expected to expand to five days a week in January to better serve ski vacationers.