Coming full circle at Boundary Hill Farm in Grand Forks
Ecologically responsible techniques like full-circle farming are vital to the operations at Boundary Hill Farm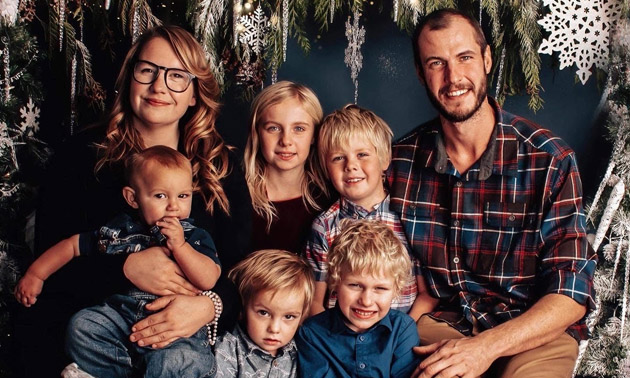 You could say that Michael and Courtenay Rudy, first-generation farmers and owners of Boundary Hill Farm in Grand Forks, have come full circle. On separate career paths, their journey entwined 13 years ago with a chance meeting at a farmers market. Now, the couple has five children together and practices sustainable, full-cycle farming techniques on their 36-acre property.
"I had planned to become a physics teacher, but I fell in love with a boy and the rest is history," said Courtenay. "Farming is surprisingly romantic. The connection with the earth and to the food you are growing—it was hard not to become a farmer once I got involved."
Getting established
Over their last decade of farming, the Rudy's have owned several different properties—they consider Boundary Hill Farm their greatest undertaking thus far.
"We've been on this property for two years and it's our third growing season. We have built everything from scratch ourselves (mostly Michael), and as our kids have gotten older, they take on more and more," said Courtenay.
Taking on more and more has been a full-time venture for this hard-working family. Initially, their farm didn't have any outbuildings or infrastructure of any kind, so putting in the foundations of a working farm were essential. Fencing, greenhouses, animal shelters and alleyways have all been established on the property.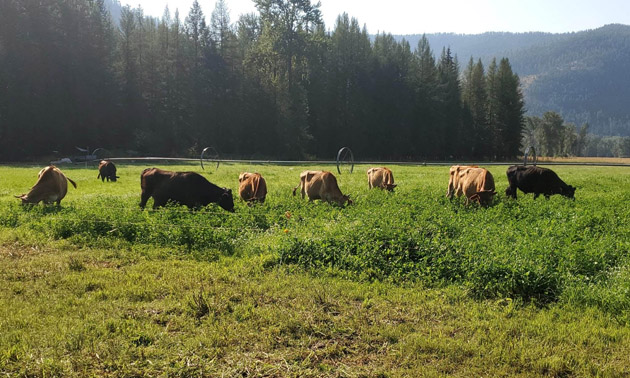 Full-cycle farming
Because ecologically-responsible farming techniques like rotational grazing and full-cycle farming are at the core of the Boundary Hill Farm operation, it was especially important to set up the property to easily allow movement of livestock.
As Courtenay explains, "Full-cycle farming means closing the nutritional loop from vegetation to animal. It's the "great circle of life"—animals eat the grass, animals poop on the grass, the manure feeds the grass and the cycle begins again."
The livestock and animals at the farm play an integral role in the vitality and sustainability of the land. By utilizing farming techniques like rotational grazing—where animals are put out to pasture on smaller sections of land and moved regularly—the farmland can be nourished naturally without the use of chemical fertilizers. At Boundary Hill, each animal serves a purpose: the chickens perform pest management, the pigs are natural diggers and till up the soil and the cows, sheep and goats eat weeds.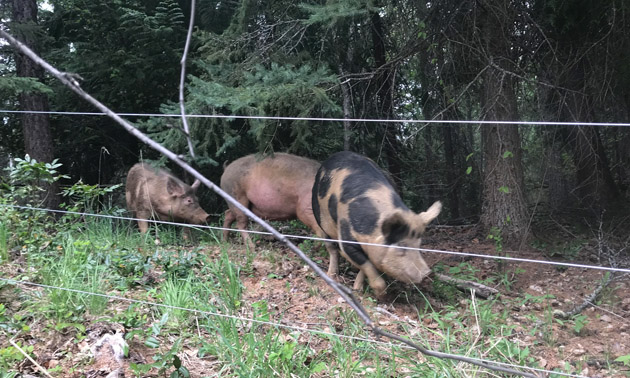 Thoughtful use of plants is also a vital part of full-cycle farming.
"Cover crops, such as legumes, sequester nitrogen from the air and release it into the soil to replenish what was used by previous crops," said Courtenay.
Feeding the community
The farm is now at the point where the Rudy's are able to share what they grow and raise on their property with the community. Fresh vegetables, fruit, salad greens and other produce is grown seasonally, along with free-range eggs, beef and pork.
"We have learnt to hone in on what our climate and property grow best and we are working on perfecting those rather than forcing crops to grow that simply do not thrive here," said Courtenay.
Boundary Hill Farm sells their products directly to their customers via their farm store. They also sell products in a few local stores and restaurants and we have partnered with a local dairy to sell produce.
Ultimately, the Rudy's are happy to continue doing what they love—farming and sharing their passion for simple living.
"We are humble farmers," said Courtenay. "Our goal is not to buy new vehicles, build a big house or buy tons of land. We don't have outrageous prices, we aren't trying to get rich, we want everyone to be able to eat organically-produced vegetables and meat and our prices reflect that. What's the point of growing all this good food if no one can afford it?"