Bron & Sons Nursery Co. in Grand Forks is the product of a rich family history in horticulture
Ed and Kathleen Bron praise their dedicated staff, including ones from Mexico who work year after year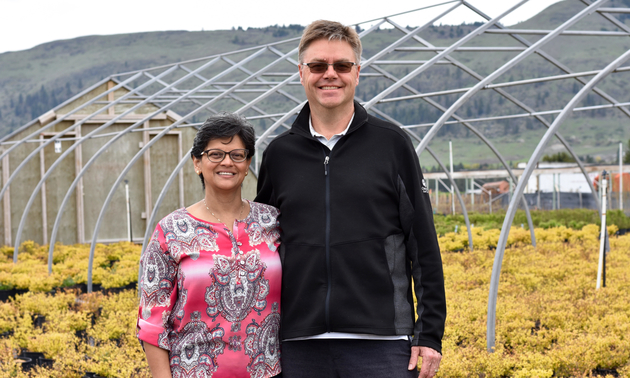 Ed and Kathleen Bron are continuing a long family tradition with their ownership of Bron & Sons Nursery Co. in Grand Forks.
Ed's parents, Hans and Rita Bron, originally immigrated to Alberta from the Netherlands in 1963. They were part of a program designed to bring much-needed farm workers to Canada. In 1969 they opened Greenview Nurseries, consisting of a small garden centre location in Calgary. They raised their sons, Ed and Vince, to appreciate all aspects of the industry. The family unfortunately lost Rita to cancer in 1975. In 1977 Hans got remarried to Marian Bron, and the couple had a son named Rick.
In 1988, the family purchased land in Grand Forks. Vince and Genny (Ed's brother and sister-in-law) ran that operation to supply Greenview Calgary and developed it into a wholesale supplier for Western Canada.
By 1996, the Alberta location was sold.
Ed and his wife, Kathleen, partnered with his brother, Vince, and sister-in-law, Genny, to purchase the Grand Forks operation from Hans and Marian—creating Bron & Sons Nursery Co.
Bron & Sons is now one of the largest wholesale nurseries in Western Canada. In order to combat trucking shortages, the Brons do a lot of their own shipping. They ship their products east to the prairies, as far north as Alaska and all the way south to New Mexico. They have 36 hectares in production and at peak season they employ over 120 people, including up to 50 Mexican workers who have returned annually to help at the nursery for more than 12 years. Approximately 20 staff members stay year-round. Vince retired in September of 2021 and his sons Jeritt and Kyle—who are 28 and 26 respectively—have worked with the company since they were approximately 10 years old.
We had a chat with Kathleen Bron about the family business and what goes on behind the scenes:
Do you have family members involved in running the business?
Currently, Ed, myself and our son, Mitchell, are involved in the business. Our daughter, Shantelle, helps me with our catalogue publication's writing, photography and original art as her time permits (during the completion of her undergraduate studies). While Bron & Sons is a family company, we have been blessed with amazing, loyal staff—many of whom have been with the company since its earliest days. Mitchell has completed three years of a horticulture degree from Olds College in Olds, Alberta.
Prior to Vince's retirement, their sons, Jerrit and Kyle, were also involved with the business.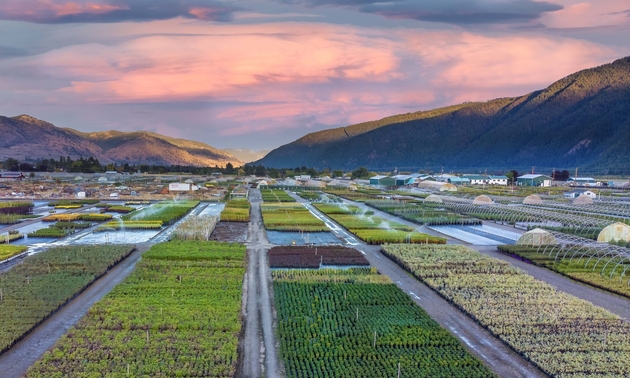 - Peter Kalasz photo
Can you tell me a bit about your background in horticulture and how it's helped you with your company?
Ed's background in horticulture stems primarily from working alongside his parents and in horticulture since he was five years old. Ed has horticulture technician training from Olds College and more than 40 years experience. He also worked with the Landscape Artist in Calgary and Eastside Dodge Chrysler, Calgary, as a parts technician. Although he learned a lot and liked this job, it taught him that he did want to be in horticulture and working outside.
My formal education includes a diploma in journalism from Mount Royal College in Calgary (now Mount Royal University). Prior to joining Greenview Nurseries in 1993, my background was in trade publications. This included three horticultural trade magazines for Consolidated Communications, Calgary. I started out as a proofreader, writer, photographer and black-and-white darkroom technician, and eventually became managing editor of a group of publications. This was my introduction to horticulture in Western Canada, primarily with (Landscape Alberta's) Prairie Landscape Magazine, which covered the horticulture industry across the Canadian Prairies.
This is also how I met Hans and Marian Bron and eventually the rest of the family. I worked alongside Marian with Landscape Alberta on Home & Garden Show brochures, advertising, etc.
Following that, I freelanced for Landscape Alberta, the Calgary Real Estate Board, and Turf & Recreation Magazine, Ontario, while working at Greenview in the garden centre, office and with wholesale orders, loading and unloading trucks, and weeding.
Since moving to Grand Forks, I have set up and streamlined the plant information system that is used in our database for all of our publications, tags, advertising and website. Our initial 24-page black-and-white catalogue in 1997/98 evolved into a U.S. catalogue, Canadian catalogue and biannual reference guide. Our last catalogue was 188 pages in full colour with photos for most of the 1,000 varieties. We have moved to publishing only a biannual reference guide, with the goal of eventually having all reference resources online.
My job is to keep the marketing fresh and ahead of the game by anticipating trends. Most recently, we did this by adding fire-resistant, xeriscaping and pollinator icons to our database, which will appear in future guides and is already on this spring's tags and our website.
What impact has COVID-19 had on Bron & Sons overall?
COVID-19 has been a major factor in the exponential growth of the company and horticulture worldwide, in the past 2.5 years. More people stayed home and invested in their outdoor surroundings, and a whole new generation fell in love with gardening.
COVID has also come with its challenges, including labour and trucking shortages, both of which were already a challenge pre-pandemic in our area. Additionally, housing to attract employees was an issue before flooding a few years ago and has been exacerbated by COVID. Like all other businesses, we have also been affected by supply chain demands and the major cost increases across-the-board to run a business.
What plans do you have for the future of the company?
Our main goal as a business is to make sure we continue to provide top-quality customer service and products with the lowest possible impact on the environment. We are proud to say we have a long-running integrated pest management program (since Greenview) and will continue to look at the best possible way of doing things with nature in mind.
As employers, our future plan is to develop a succession plan with the best possible outcomes for the Grand Forks community, our staff and our family. This includes moving more staff into key positions and helping them find how they best fit within the company.
We've talked about a lot of things, but we can't say enough about our amazing staff—they are what makes us work well and succeed as a business. Not only do we have a loyal crew with low turnover, but we have their partners, siblings and children who often join our team as well. Some of them leave for a while and come back with renewed purpose. We are grateful for our staff, many of whom have been with us for 20+ years, some since the Grand Forks operation was started in 1988/89.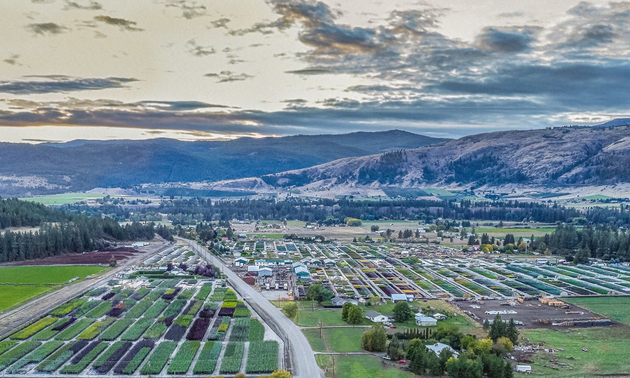 - Peter Kalasz photo
Aside from business ownership, how do you stay connected and get involved in your community?
It's not hard to stay connected in a small town. We sponsor most local sports teams, clubs, curling, hockey … generally any group that asks. We have also supplied plant material for the Grand Forks Secondary School graduation ceremonies for years. Ed and Mitchell have helped with sand-bagging during the flood, and we loaned out generators and loaders personally. We like to do whatever we can to contribute to the well-being of the community.
Ed has been captain of men's golf at the Christina Lake Golf Club, and a board member and president of the Grand Forks Curling Club for many years.
Most of my time (when I wasn't working on our marketing/publications), when our kids were in school was spent volunteering at school for one-to-one reading, in the classroom, maintaining the school garden, fundraising, field trips, Christmas concerts, sports events and all of Shantelle and Mitchell's many extra curricular events. I was chosen (by student votes) as one of the parent-valedictorians at Mitchell's high school graduation, and it is one of the highest honours of my life thus far.
With the growth in our business and becoming sole owners, we have not been able to be as involved as we used to be, but we do like to work silently, behind-the-scenes, when we become aware of a need in the community.
What do you like to do in your leisure time?
We love to travel, hike, take our Tracker up the North Fork, and go to concerts and wine tours. If we can do any of that while catching up with family, friends and colleagues, that is the best.
Ed loves to golf, fish, curl and hike.
I like swimming, walking, hiking, reading, doing puzzles, gardening, photography and crafting.
What would you like readers to know?
We'd like readers to know that it is very rewarding to be employed in horticulture and that there are many opportunities. The best part about the profession is the people. We are blessed by amazing clients, colleagues and staff, many of whom have known the family and business since its early days in Calgary.