State of the forest industry
Where we're at—and what happens next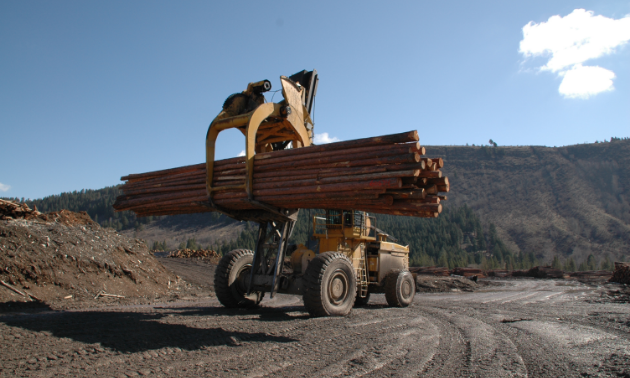 How is the forest industry faring in B.C.? It depends on who you ask and what happens in the coming months.
If you view things from the government of Canada's point of view, it looks like this: "Forest product markets are cyclical, experiencing significant ups and downs over the economic cycle. In recent years, Canada's forest industry has undergone an especially deep cyclical decline, coupled with structural changes in world markets. In particular, the rise of electronic media has resulted in deep decline for paper-based communications products—including several products (such as newsprint) that have traditionally been critical to the Canadian pulp and paper sub-sector."
That sounds slightly doom-and-gloom-ish. But let's take a step back and hear what the government of B.C. has to say: "The B.C. forest sector continues to recover from 2009, the sector's worst year of the recession, and one of the worst years for B.C. forestry in recent history." The uptick from '09 continues to get better year after year. When comparing the most recent results from June 2015 to June 2016, we see that B.C. forest product exports totalled $1.14 billion, up 2.5 per cent from $1.11 billion. That's encouraging news.
It appears that nationally forestry might be struggling a bit but provincially things are continually moving in a more productive direction. To get a better sense of how things really are, let's hear from someone who's in the thick of it—Rolf Heiberg, owner of Borderline Lumber Service in Christina Lake, B.C.
"Getting quality timber is a problem, because there's not very much of it," Heiberg said. "It's basically been committed to all the major forest companies. They made it really difficult for small operators in niche markets to get the fibre they need. "In the specialty market it's improving. Our business is good," Heiberg said, "but expansion is almost impossible to a point, even with timber licences, we have to pay major dollars for that wood. They have to start taking quota away from large forest companies, or mandating that they make a certain volume of it available to small business and I doubt that anybody's got the clout . . . to do that."
That brings us to the contentious softwood lumber agreement with the U.S. Here's the short version from the Canadian government: "Over the past 25 years, the United States lumber industry has frequently sought U.S. government restrictions on Canadian softwood lumber imports through the application of U.S. countervailing duty and anti-dumping laws. The most recent agreement, the Canada-U.S. Softwood Lumber Agreement 2006 (SLA), returned more than $5 billion in duty deposits to Canadian companies and included provisions that have promoted stable and predictable access to the U.S. market." That doesn't sound so bad.
Here's how Heiberg described the agreement: "It's mostly a currency issue. The dog wags the tail, and we're the tail. When our currency is par, there's no issue. When it goes way down like it is now, then it's an issue to Americans. Unfortunately, it includes all specialty products and value-added stuff that shouldn't be included in it, but it is. That agreement was primarily targeted at SPF—spruce, pine and fir."
Back in June, Canadian Prime Minister Justin Trudeau and U.S. President Barack Obama met to discuss the future of the softwood lumber agreement as the deadline for a new agreement approaches. After that meeting the PMO released this statement: "The United States and Canada have made important progress in our negotiations, but significant differences remain regarding the parameters of the key features. Our governments will explore approaches to ensure effective management of the agreed market share. We are encouraged that both industries remain committed to working toward an agreement and will continue to consider ideas for achieving that objective. Our dialogue will continue and, building on the progress achieved to date, our ministers will maintain an intensive pace of engagement with a view to achieving a mutually acceptable agreement this fall, bearing in mind the expiration of standstill after October 12, 2016."
So, is the forest industry rotting at the roots or standing tall? Positives and negatives can be found for either argument, but in short, the answer lies somewhere in between. Until the softwood lumber agreement with the U.S. is resolved, uncertainty will remain.