Revelstoke Chamber of Commerce's 28th Annual Business Excellence awards end with a bang
Fireworks were a fitting finale to the annual Business Excellence awards, held on November 6, 2021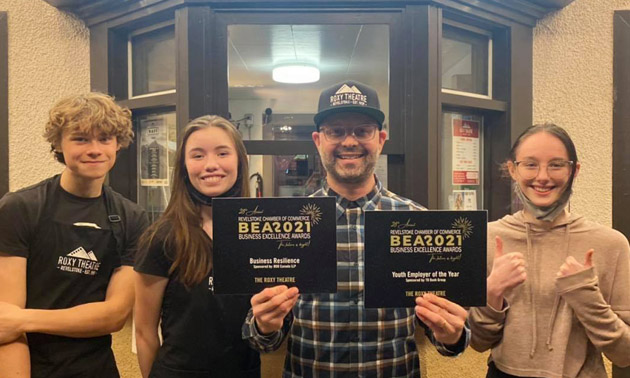 The Revelstoke Chamber of Commerce knows how to celebrate! Even in the middle of ongoing pandemic restrictions, the 28th Annual Business Excellence Awards hosted by the chamber was a fun night of celebration, complete with fireworks to end the festivities.
Hosted by chamber president Maggie Spizzirri and local volunteer-and-fundraiser extraordinaire Tyler Maki, the November 6 virtual event saw the duo tour around Revelstoke on the "Everything Revelstoke" shuttle bus and hand out awards at local businesses and locations.
Congratulations to the following winners of the Revelstoke Business Excellence awards:
This year's Business or Organization of the Year award resulted in a tie. Congratulations to Revelstoke Search and Rescue and the Revelstoke Family Pharmacy.
Operating in the community since 1952, Revelstoke Search and Rescue is run by a group of highly-trained and dedicated volunteers. In addition to conducting rescue missions and providing medical aid, the team also assists in missing person and evidence searches, coroner requests and outreach.
As Revelstoke's only locally-owned and family-run pharmacy, the Revelstoke Family Pharmacy offers a wide range of services to customers. Offering personalized and attentive service, the staff work hard to make clients feel appreciated and valued. In addition to supplying a large selection of retail items like beauty products, cards, giftware and toys, the pharmacy also provides flu and travel vaccinations, immunizations and medication reviews and advice.
Employee of the Year - Tyler Maki from RCU Insurance
Tyler Maki is a familiar guy around the community of Revelstoke. Not only is he the manager of insurance operations at RCU Insurance, he's the face behind many community initiatives. He's an avid volunteer around the city, takes part in the annual community food drive and is an announcer for the Grizzlies hockey team. This year, he even played co-host for the Revelstoke Business Excellence Awards and was surprised when he was awarded the Employee of the Year. Congratulations, Tyler!
Congratulations to Little Bear Engineering on their Sustainable Business Excellence win. This company is proudly Aboriginal-owned and specializes in radon measurement and mitigation for both residential and commercial customers, energy management and heating, and ventilating and air-conditioning (HVAC) design.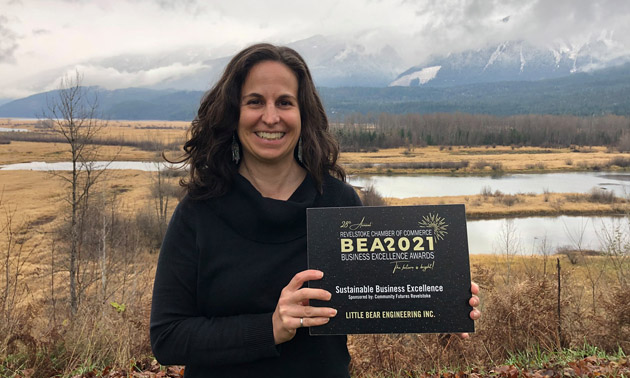 Established in 2007, Absolute Contracting is the largest home and commercial builder in the area and specializes in quality-built mountain homes. The company recently partnered with the Okanagan College Trades Program to give local students on-the-job training on construction techniques. Through the college's Carpenter Foundation Program, Absolute Contracting's team collaborated with students to build a duplex on Begbie Road in Revelstoke.
Industrial & Manufacturing Excellence - Downie Timber Ltd.
Downie Timber Ltd. has been a staple in the community of Revelstoke since 1950 and provides employment for approximately 300 residents. The company specializes in western red cedar products, although it also processes hemlock, fir and spruce. Downie Timber Ltd. is an enthusiastic supporter of local fundraising efforts and initiatives.
Dreaming, designing and building are the crux of the Revelstoke Idea Factory. This non-profit organization is a home-grown fabrication lab designed to foster innovation and imagination, and act as a hub for Revelstoke's growing tech sector. Operating on a membership basis, the lab welcomes everyone from students to emerging entrepreneurs and holds a range of classes and workshops. Clients can access tech equipment like high-speed laser cutters and engravers, 3D printers, digital scanners and resin printers.
With fresh-out-of-the-ocean flavours and unique dishes, Kawakubo Japanese Restaurant has captured the hearts and stomachs of locals and visitors alike. This laid-back dining destination serves traditional sushi, teriyaki and soups, and gets rave reviews from customers.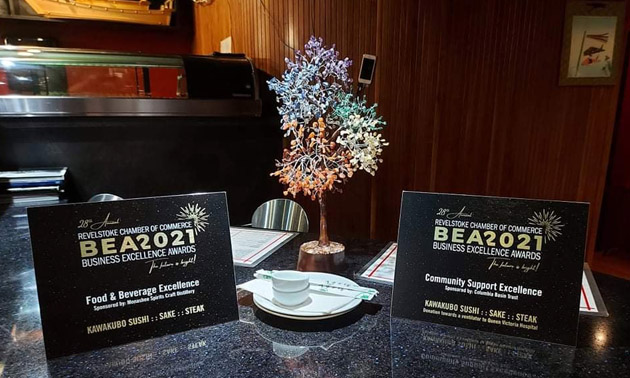 Kawakubo Japanese Restaurant is very deserving of this year's Community Support Excellence award. During the first COVID-19 closures of 2020, the restaurant decided to hold a fundraiser on their last night of operation and managed to raise almost $10,000 that evening for the Queen Victoria Hospital. Thanks to the generosity of Kawakubo Japanese Restaurant, the hospital was able to complete the purchase of a new portable ventilator, which arrived in early 2021.
Over 150 kilometres of spectacular biking trails can be found in the Revelstoke region, spanning everything from quiet countryside roads to amazing alpine terrain. The Revelstoke Cycling Association is the non-profit organization behind those trails. Driven by volunteers, this hard-working group manages and maintains all the world-class trails in the region, organizes cycling events and acts as a voice for Revelstoke's strong cycling community.
Entrepreneurial Excellence - Fable Book Parlour - Stacy Batchelor, Allie Bruni & Kristin Olsen
Fable Book Parlour is independently owned by three dynamic women: Stacy Batchelor, Allie Bruni and Kristin Olsen. They believe in sharing their love of community, arts and culture and, of course, books. Home to both new and used titles, the store also features a music department and the traveling Fable Bookmobile. Interested in learning more about this fledging new business and the talented businesswomen behind it? Read our story here.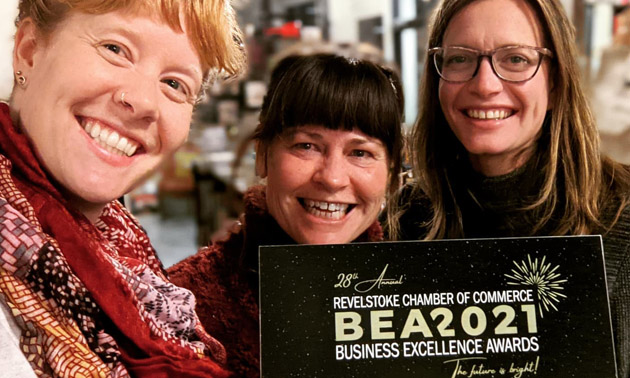 The past year has been a challenging time for many businesses, so it's no surprise that there was a tie in this year's Business Resilience category. Congratulations to the Royal Canadian Legion Branch 46 and the Roxy Theatre.
The Royal Canadian Legion has been operating in the community since 1926. The Legion supports programs and services tailored to meet the specific needs of Canadian Forces members, veterans, seniors, youth and community citizens. The ongoing pandemic has been challenging for many non-profit Legion branches, including the location in Revelstoke. In 2020, volunteers established a second-hand store in the Legion basement in an effort to raise more funds for the organization.
The Roxy Theatre has been a community fixture since first opening in 1938. Originally known as the Avolie Theatre, the name was changed to the Roxy in 1959. A succession of owners has come and gone over the years, but the name stuck. The newest owner, Greg Rose, took over operations in November 2020, only to close the vintage theatre due to COVID-19 restrictions until June 2021. Forced to switch gears, the theatre team undertook some much-needed repairs, renovation and maintenance jobs, added a patio and even raised supplies for the local food bank.
Youth Employer of the Year - Roxy Theatre
Congratulations to the Roxy Theatre on their Youth Employer of the Year win! The theatre couldn't run without the dedicated team who keep movie-goers stocked up with freshly-buttered popcorn, drinks and treats; the ushers who direct customers; and all the staff who work tirelessly behind the scenes.
Voted as Canada's No. 2 Small Hotel by Trip Advisor, this world-class boutique hotel is housed in a circa 1911 brick building. It effortlessly combines old-world charm and modern amenities. The downtown Revelstoke property features nine cozy rooms, an indoor/outdoor rooftop patio and guest lounge with hot tub, and complimentary gourmet breakfast.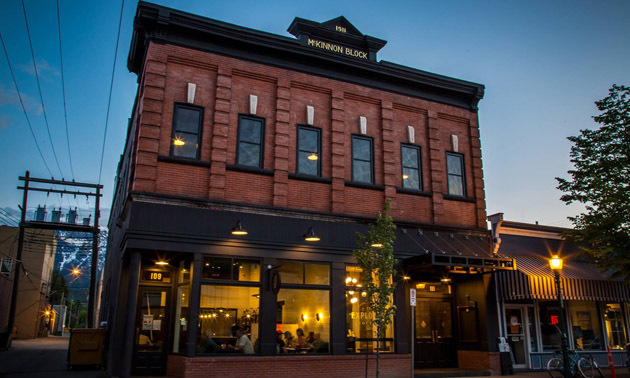 Revelstoke's source for all things organic and natural, this little store stocks a huge range of products including food, beauty and household products, and supplements. There is a glass jar refill-and-exchange program for bulk products. The friendly, helpful and outgoing staff get rave reviews from customers. Congratulations to Mountain Goodness Natural Foods on their Retail Excellence win!
As a licensed family childcare facility, Birch Bear Cubs Daycare provides young children with a fulfilling and fun environment in which to play and discover. Owner Katie Baur has created a caring, quality daycare out of her home and strives to create enjoyable and educational engagements for the children like growing backyard vegetables.