Mercer Celgar wins at innovation
Mercer Celgar wins FPAC's 2019 Innovation Award for a new pulp-chip trailer design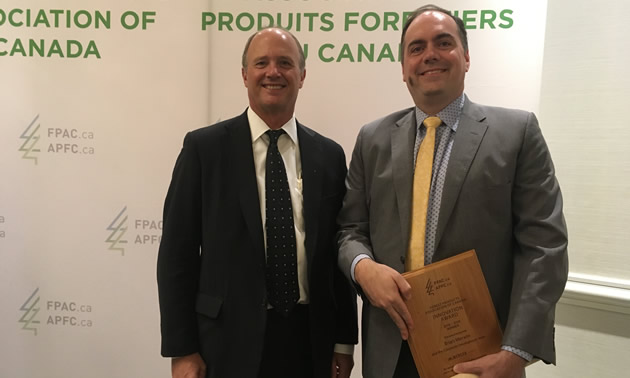 The Forest Products Association of Canada (FPAC) holds an annual Awards of Excellence event showcasing the achievements of Canadians in the industry. The 2019 recipient of FPAC's Innovation Award was the team led by Brian Merwin of Mercer International Inc.
The award recognizes Mercer's commitment to environmental leadership and sustainable forest management practices. The award-winning innovation is a trailer that can haul both wood chips and pulp, thus reducing the distances that trucks travel without a load. This shrinks fuel and labour costs, reduces fuel emissions and increases productivity.
Merwin, the vice-president of corporate development at Mercer International Inc., said, "This innovation was a team effort. Transportation costs are one of the greatest challenges our industry faces today. My team tried to focus and solve one small piece of this challenge, and our contribution is the drive-through pulp-chip hauler."
Merwin enlisted the technical and creative help of a team that included personnel from a trucking firm and a trailer manufacturer. A two-year collaboration saw the development of a unique B-train trailer that is strong enough to transport pulp, light enough to economically haul wood chips, and compatible with existing loading and unloading infrastructure at both the Mercer pulp mill and the Vancouver docks.
"Mercer Celgar is the driving force behind this design," said Ryan Chambers, president of DCT Chambers Trucking. "They wanted a better delivery system, using the infrastructure they had in place. They worked with us, we engaged a trailer manufacturer, and eventually we met that goal. We're proud to have been part of this collaborative effort."
Merwin said that the pulp-chip trailers are available from the manufacturer to other companies in the industry.