Together in art and life
These nomadic artists may just have put down roots in Golden, B.C., where they operate Art Rush Gallery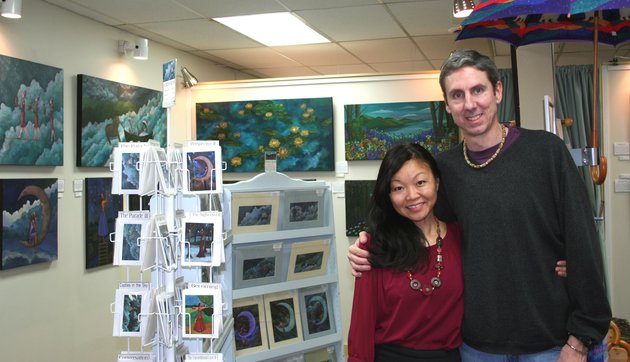 Being partners in business and in life is not always a walk in the park. But Ting Yuen and her husband, Paul Morel, have made it work as owners and operators of Art Rush Gallery, a working art gallery in the heart of Golden's historical downtown.
Yuen produces whimsical dreamscape paintings, while Morel focuses on wildlife photography, capturing both local and exotic animals in their natural habitats. Together, they design a line of jewelry.
The gallery also offers an array of art gifts—designer handbags, hats, scarves, wallets, belts, leggings and soft toys for children.
Yuen was happy to answer our questions.
What strengths do you bring to Art Rush Gallery? What strengths does your husband offer to the business?
Even though Paul and I each have our artistic endeavours—some are similar and some are different—I do think that Paul and I are like the yin and yang. We balance each other out quite perfectly. Paul is great with the little details (in terms of executing the ideas that we may have); I am good with the full picture. He is great with numbers and finances and he is also the backbone of the business as he does all of our printing and art gifts. My strong suit is in "front of house" with personal relations, sales and merchandising. Paul's passion shines through in his wildlife photography and my talent lies in my dreamscape paintings. As a combined interest we both love to make jewelry and often design our pieces together. Paul and I also have very similar tastes so we are both involved in the buying process for the business.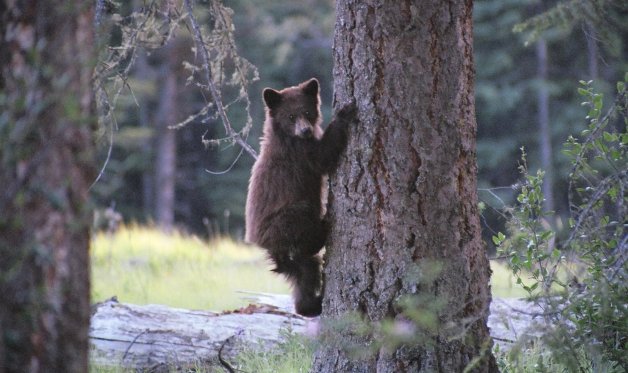 What are the challenges of being husband and wife, and also business partners?
Paul and I have worked together for the past 12 years. It always has been our dream to own a business. In the beginning of our business venture, we had a few problems—our egos clashed every so often—but after a while the growth of our business made us realize that teamwork is definitely the essence. We have learned to communicate better, respect each other's ideas and work with the best idea for the business regardless of who came up with it. As a matter of fact our business has improved our personal relationship! We definitely love working with each other—we bring our work home, we talk about it constantly even while we are hiking. All in all it's been great. Challenges can always be worked through and it just makes you a stronger and more dependable unit.
Who or what inspires you? Did you have any particular mentors?
We don't really have a particular mentor but we admire anyone that has the entrepreneurial spirit who is not afraid to fail, dust themselves off and do it all over again. It's about great attitude, persistence and courage.
Do you have a business motto or a favourite inspirational quote?
This is one of my favourite quotes by Emily Dickinson:
We never know how high we are
Till we are asked to rise
And then if we are true to plan
Our stature touches the skies
What aspect of running a business has surprised you the most?
The amount of work it takes to run a business is not surprising but how "rooting" it is (was a surprise). It can be quite difficult for nomads like us, hence the reason why we've moved our business a few times.
What is the high point of your work day?
Connecting with people and sharing our aspirations and inspirations with others. It's such an amazing feeling when we are able to assist someone in their paths.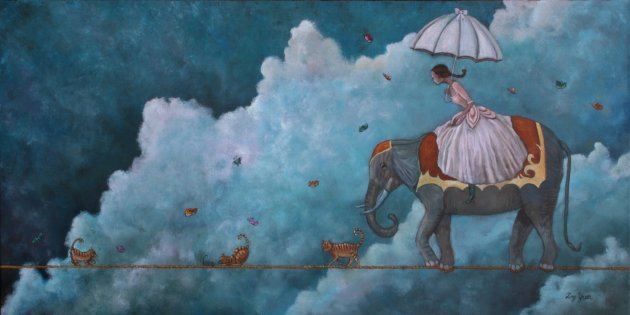 What kind of customer do you hope will walk through the door and why?
Anyone who chooses to visit our gallery, we welcome them with open arms, although we are particularly thrilled when we get customers who appreciate and "get" what we do—our art, photography and jewelry—whether it's the feeling they get when they see them or the instant connection they have with them visually. And sometimes it could be the stories that accompany our creations that strikes a chord with them. We always feel honoured when we are able to inspire people through our work. We do have a very holistic approach to our creations. It's all about positive attitude and energy and we hope to transmit that to our customers or anyone that walks through our doors.
What were your first jobs and what did you learn from them?
My first job was in the restaurant industry. I learned a lot about food and wine pairing, customer service and sales.
Paul's first job was a tree planter. He learned perseverance and hard work but even before that, he learned that an entrepreneurial spirit would take him far in life and that he wanted to do something that he is passionate about so that his job would be fun, exciting and that he would be in control of his own destiny.
What's something people might be surprised to learn about you?
I lived without my parents since I was seven years old—I grew up very independently.
I have also lived in five different countries and Paul has lived in two. Together we've lived on Grand Cayman Island and have moved to 12 different towns or cities in the last 25 years in Canada. We both have wanderlust and an undying urge to keep seeing and experiencing different places and things. We tend to pick up and move on once we've explored a town to its full extent. Just recently we have relocated our business to Golden. With its proximity to six national parks, we believe it's going to keep us entertained hopefully for the rest of our lives—growing some roots wouldn't be such a bad idea after all! We seem to have found the place we would love to call home, at least for the foreseeable future
What other artists/photographers do you admire?
I admire Robert Genn, Modigliani, Van Gogh, Diego Rivera and Frida Khalo.
Paul admires many of the National Geographic cinematographers and photographers as well as anyone who has the patience and persistence to find and photograph wild animals in their natural habitat.
What are your No. 1 passions outside of work?
We both are very lucky in this department as we have turned our passions into our work. Both of us are also very much into nature—we love to hike and travel, which assists us in finding inspirations for our work.
Anything else at all you'd like to add?
If anyone has a passion for doing something that they love, don't listen to the many that will tell you that it's too hard or too difficult or how many have tried and failed before you—just go for it! Try it out for yourself, work hard, be dedicated, persistent, have a never-give-up attitude and reach for your dreams. After all, only you can make them happen and if you're successful, you will live your dream life and have your dream job.
RESOURCES:
www.artrushgallery.com