Bringing clarity to work and life
Networking and community connections are vital to this wife/mom/worker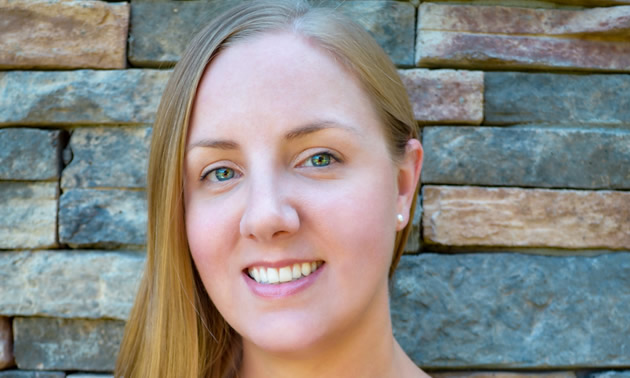 Samantha Gernhart, one of Kootenay Business magazine's Influential Women in Business nominees in both 2018 and 2019, has been interested in the entrepreneurial world from the get-go. She started her home-based business, Clarity Marketing & Design, straight out of high school, later completing courses in applied web development at BCIT and marketing management at Kwantlen University. Gernhart will celebrate her 14th year in business in August 2019.
She specializes in marketing, events, promotions, social media, web design, graphics, logos, training and workshops.
Past clients have included the Surrey School Board, BC Youth Week, the City of Burnaby, the Prostate Cancer Foundation of BC, WestCoast Families magazine, UrbanBaby & Toddler magazine, the BC Library Association, the MS Society of Canada (BC division) and, in the East Kootenay, Fairmont Hot Springs Resort.
In 2013, Gernhart was a finalist for the Surrey Women in Business Awards, Later, while living in Burns Lake, she taught courses at the College of New Caledonia, ran workshops with the local chamber of commerce and was a presenter on the topic of WordPress at a DigiTalks event in Prince George.
Now settled in Invermere with her husband, an 11-year RCMP member, and their three young children, Gernhart is chair of a tourism committee that operates under the Columbia Valley Chamber of Commerce. She is in the process of putting together courses to launch this fall with the Mountain Hub Academy.
Gernhart recently answered a few questions for Kootenay Business.
You're a busy mom and wife as well as a self-described "driven entrepreneur." How do you manage a work-life balance?
Balancing work and life is very hard—almost impossible to achieve. The way I have balanced work and life in the past with my business is by having part-time childcare and working out of the Mountain Hub Coworking Space in Invermere. This allowed me a separation between home and business life. It was hard to justify those expenses, as I could have run my business entirely from home, but being a very social person I needed ways to get out of the house and meet new people. Working out of the coworking space allowed me to call and meet with clients away from home and without interruptions. It also gave me a little added professional touch working out of the coworking space compared to my home.
(Gernhart recently started working at Copper Point Resort as the sales and marketing manager while continuing to run her home-based business so is not currently using the Mountain Hub facilities. However, she continues to highly recommend the coworking space as a great resource for herself and her community.)
What makes your business different from others?
I share the knowledge. I will train people how to use their social media better, I will train people how to use their website better. You can sit down with me and pick my brain. Not a lot of people who do what I do are willing to train their clients.
How do you support other female entrepreneurs?
I have started a women's networking meetup called Leading Ladies in the Columbia Valley. The purpose of the meetups is for women to meet other women to network, support and become a community. When I lived in the Lower Mainland, I used to attend women's networking groups and I found it beneficial for me socially and for my business. The Leading Ladies group started in the spring. We had our first meeting in April and will be picking back up our monthly meetups in the fall.
You've lived in big cities and small towns. What's special about living and working in the Invermere area?
I have lived in different cities in the Lower Mainland, in a small community in northern B.C., and now Invermere. Invermere is such a special place. The mountain views here are just insane! It is a good medium for me—not too small that there are no programs or opportunities here but not as big as the huge, full-of-traffic cities I have lived in before (which I never want to live in again). There are so many opportunities here that people could potentially enjoy and take part in.
What's your spirit animal?
My spirit animal is the bear. I am honest and blunt. (Her grandpa's nickname for her is Sami Bear).
Do you have a hidden talent outside of your paid work?
I am good at fixing things around the house. I can patch, sand, caulk and paint a room. To me, being able to do things like that are important life skills.