Pack light and keep on travelling
A good travel agent is invaluable in helping you get out of your comfort zone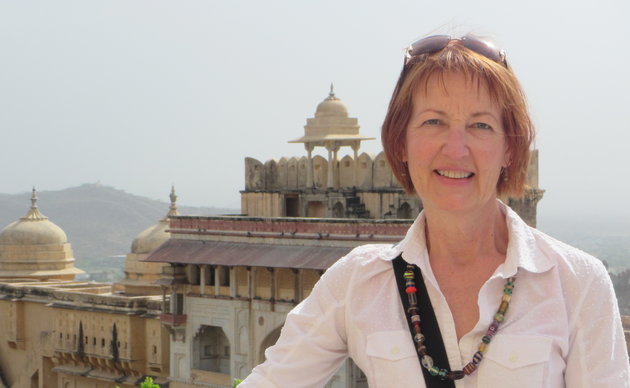 Carla Nelson describes travel as one of the most important facets of her life. Not surprising, since she is a travel consultant and branch manager of Maritime Travel in Cranbrook, B.C. Nelson believes people should travel for education, understanding and tolerance—and for living on the edge of their comfort zones.
She also points out the value of a good travel agent.
"There's so much information available nowadays, it's overwhelming. We help sift through it, usually pretty quickly and efficiently," she said. "Most travellers want an authentic travel experience. We just have to ask the right questions to find out what that means to them, listen to what they tell us and present the solution. We love it when people come back and say, 'It was perfect!' "
Kootenay Business had a few questions of our own, which Nelson kindly answered.
You've been in the business quite a while, so I was wondering if you've noticed any differences in what people are looking for when they travel now as compared to the past.
Experiential travel. Interaction with locals. Value for money. Guided 'independent' travel. Personal recommendations.
What's your top pick for someone wanting an active vacation?
You can be active anywhere, but some of my favourites are the Inca Trail hike in Peru and the Annapurna Circuit in Nepal. But you can put on 20 kilometres a day just walking in London or Paris.
What would you recommend for someone looking for a laid-back holiday?
Wherever there's a beach. Or rent a studio in a medieval village in the south of France and live like a local for a month.
What's on your radar for your next trip?
I'm hoping to return to India with a group in February. I was there last March and it was so interesting, I need to return and see and feel more.
Any particular destinations that are definitely on your personal 'bucket list' and why?
I'd still like to conquer Kilimanjaro in Africa and walk the Camino in Spain—do the active ones while I still can. I've been to nearly 50 countries so far, but there's over 100 more to explore, so lots on the bucket list.
What are some lesser-known travel destinations that are on the rise?
The three 'I's—India, Iceland and Ireland—safe, interesting and relatively affordable. In our own country, the Maritimes and Newfoundland and Labrador are high on the list of must-visits.
Besides your passport, what's one thing you never leave home without when you travel?
My compression socks,'no jet lag' pills for long-haul flights and a travel journal. I'm naturally curious and like to jot down interesting phrases or stories along the way so I always remember them.
What's your best packing advice (what should you always take; what can be safely left behind)?
You need a lot less than you think, so try and travel with a carry-on only. It's a lot easier to make flight changes if you have to. Ladies—leave jewelry, and most of those cosmetics and shoes behind.
Can you briefly describe your most memorable adventure during your years of travel?
I've been fortunate to have so many—sailing into the Grand Canal in Venice, summitting Thorong La Pass in the Himalayas in Nepal, viewing Machu Picchu at sunrise, riding an elephant in Bali, dune bashing in Dubai, seeing the Taj Mahal, dancing the tango in Buenos Aires, sipping champagne over the Thames in the London Eye.
Have you had any 'oops' moments during your travels and how did you resolve the problem?
Trying to speak a few words in any foreign language will usually create an 'oops' moment, but a big smile will often fix any problem.
What's your all-time favourite souvenir?
I collect inexpensive street art and bring it home and frame or display it. Everything in my home, from my Tunisian camel hair rug to my Chinese porcelain vase, reminds me of my travels and brings me pleasure.
Closer to home, if you were to do a 'staycation,' what's one of your favourite East or West Kootenay spots?
Cranbrook for the hiking; Nelson for the lake. The outdoor experience in this area is world-class.