Keep those pesky weeds at bay
Chem-Free Weed Control goes full-steam ahead with a safe, organic way to control unwanted vegetation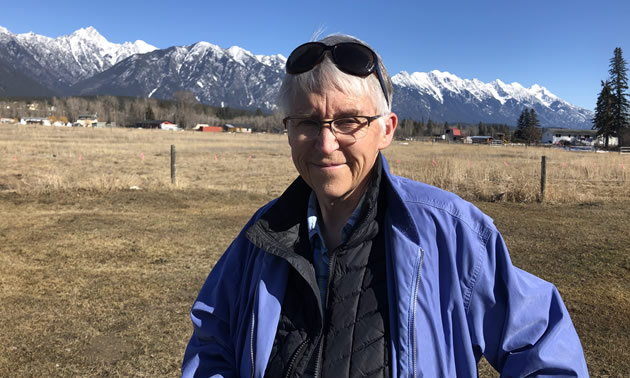 Jan Skiber hates weeds but she also dislikes applying poisonous herbicides to kill them. So a few years ago, she started doing some research online and discovered an organic weed control system that doesn't harm people, animals or the environment. Last summer, she purchased the needed equipment and launched her own business in Cranbrook. The name describes it well— Chem-Free Weed Control—which Skiber describes as "the ultimate solution in organic weed control."
Skiber's "green steam" system controls weeds with a condensate of super-heated water, which flashes into saturated steam and boiling water. Now she is ready to go full-steam ahead, so to speak, this coming summer.
The saturated steam and boiling water combination is delivered at just 15 psi (pounds per square inch), coating the unwanted vegetation without disturbing mulch, compacting the soil or spraying the residue onto adjacent surfaces, Skiber explained.
The steam/water combo doesn't penetrate more than five millimetres (about a quarter of an inch) into the soil, so it has no effect on roots of nearby perennial crops, trees or vines, she said.
Because this organic method of weed control doesn't immediately kill the roots, Skiber said she will return as many times as needed, all included in a negotiated monthly fee, to keep the weeds at bay. The number of repeat visits depends on type of vegetation and weather conditions; eventually the weeds will starve and die, Skiber said.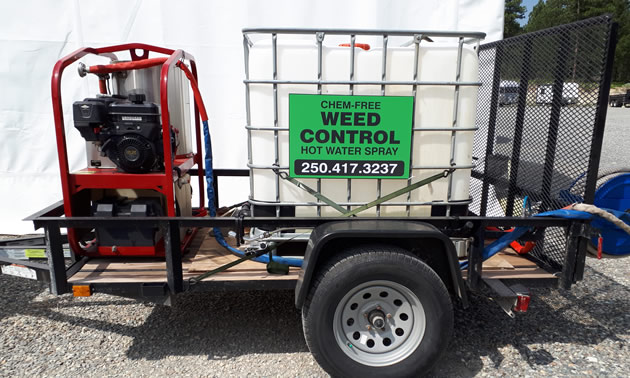 The Chem-Free Weed Control system can be used to control broadleaf weeds, small shrubs, thistles and various types of grasses including the tufted-root variety. Since no chemicals are used, it will clean weeds down to the water's edge without dumping any harmful substances into the water.
Another advantage of Skiber's system is that the super-heated condensate can be applied under any weather conditions, unlike weed control applications that contain chemicals. Rainy or windy weather is not a problem with Skiber's system.
The Chem-Free system is safe for residents, employees and pets. Skiber's weed control method also works well around horse corrals, with no danger to the animals. And with the recent hot, dry summers in B.C., with the resulting danger of fire, it's more important than ever to keep weeds under control, Skiber said.
Skiber's nifty machine can also clean steel bins, pressure-clean decks, remove graffiti from concrete and get rid of gum on sidewalks. Any potential commercial or residential clients can contact Jan Skiber at 250-417-3237.