The best soaps, the best life
Karey Pion of Fernie's Soco Soaps had two dreams so she fulfilled them both—who says you can't have it all?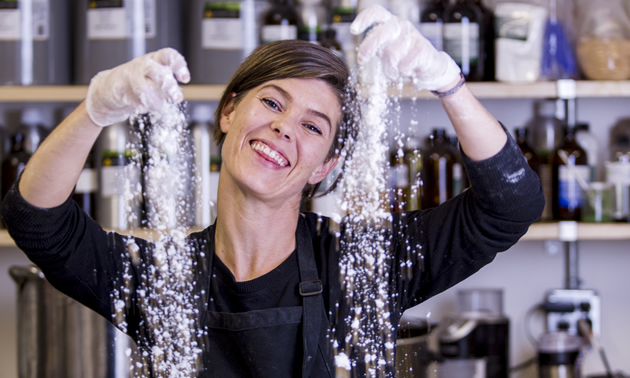 Winnipeg-born Karey Pion moved to Fernie at the age of 18 in the year 2000 for "one" season.
Well, it's 2019, and she's still there, a full-time mom and the creator of a small business she calls Soco Soaps.
"Honestly, I'm just a girl who had two dreams and didn't want to decide between the two so did them both. I am, and always have been, a full-time mom," she said, adding that she started Soco Soaps when her first child was a three-month-old babe in arms.
"Both (motherhood and the business) have been incredible and fulfilling journeys, and I'm blessed to love them both," she said.
Pion, who loves to snowboard, hike and "make this world a bit more colourful and happy in any way I can," had more to say to Kootenay Business.
What's something that happened in your business or career recently that was cause for celebration?
After a year of researching and studying both ingredients and the structure (and needs) of hair, along with more failed attempts than I can count, a few months ago I formulated from scratch and released sulfate-free, pH-balanced shampoo and conditioner bars. I am so proud—and in love with these! They are basically everything you would find in a higher-end eco-friendly bottle of shampoo and conditioner, but without the bottle. By far, they are the product that took the most research and time to perfect. I have been getting some pretty amazing feedback and plan to venture on and release some more bars for more specific hair needs.
I also have plans to release more bulk product and refill stations for as many Soco products as I can at our studio in Fernie.
How do you give back to your community and motivate others?
I give back to the community in any way I can. I donate gift boxes to charities, fundraisers and anyone who just needs or deserves a boost. I have given countless gift packages to women who are going through a rough patch. Everyone deserves a great bar of soap, bomb or chapstick, as it's the littlest things that make you feel human sometimes.
I also donate trays of soaps to the local women's centre for them to give out as needed. I've also donated bombs for Fernie Pride.
I believe we all have a superpower inside us to make this world a better and happier place in our own way—to "give what you've got" and everyone's got something. What I've got is the ability to make someone's world just a little bit brighter, smell a bit better and make people smile, even just for a minute.
Many remember when I started selling my first batches of soap at markets on a table consisting of four kinds of soap and one cream, with my (then) three-month-old daughter—the mom who only worked after her kids went to sleep. These same people now see me in 40-plus stores in Canada, with my (now) eight-year-old and four-year-old daughters, who still come with me to all of the markets (they also know who has the best prices for cherries at any local summer market!).
I am blessed that I have always had such amazing support and help from the community, and some incredibly supportive friends.
What is your superpower and why?
I suppose my superpower would be positivity and optimism (according to a friend, I'm sickeningly happy). I believe in the good of things.
I never started this business thinking it would go as far as it has, though I always dreamed it would. I just loved to make soap and kept my head down doing so. So every day that I get to do what I do is a blessing to me.
Every day I get to spend with my kiddos is a blessing. And every day, I get to do both!
In terms of your career or business, what are you most excited about in the future?
I'm excited to continue to grow organically, to expand my line of products, my reach, and also to introduce so many more bulk options to local residents.