The world comes to Castlegar
After just five years, Castlegar's Sculpturewalk program has achieved a global reach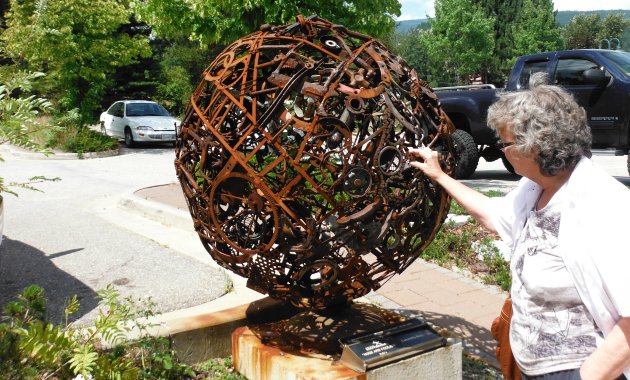 As executive director for Castlegar's Sculpturewalk program, Joy Barrett adores her job. She gets to play with big pieces of art that are impacting the business and tourism sectors, and the program is now starting to exhibit a global reach. The program has been embraced by the City of Castlegar as well as the community in general. And Castlegar has been designated the Sculpture Capital of Canada by the federal government. Kootenay Business caught up with Barrett, and she talks about a program and a job she loves.
Being involved in Sculpturewalk sounds like a fun and fulfilling job. Tell us a bit about your role.
It's a great job. As executive director, my role encompasses everything from fundraising to event management to artistic adjudication. It's very rewarding and diverse. I certainly never expected to learn how to ship a thousand pounds worth of sculptures two thousand kilometres!
How would you describe the importance of solid, visual artworks to a community?
Outdoor sculpture is a very accessible form of public art; you don't need to go into a building or a gallery space to see it as it simply becomes part of your environment. In smaller communities there are usually less opportunities for both the creation and the display of public art, so I think what we're doing in Castlegar is particularly remarkable. Within just five years, we've gone from under five pieces of public art to over 50. The community has really embraced the program. It beautifies the downtown, showcases and supports local artists, and is also a big draw for tourists.
I understand Castlegar was named Sculpture Capital of Canada. Who bestowed that honour? And what makes Castlegar such a hotbed of sculptural art activity? Is it something in the water!?
We're very excited to be recognized as the Sculpture Capital of Canada. It's been a lot of hard work, so we were honoured to be granted the trademark by the Government of Canada. The success of Sculpturewalk is also largely due to the vision and commitment of the City of Castlegar, which recognized early on the huge impact that public art could have on the community.
The West Kootenay certainly does seem to be a hotbed of creative activity. It's an area full of artists and craftspeople, and we're lucky that we can tap into that talent here in Castlegar and showcase the incredible work that local artists are creating. Maybe the clean, fresh mountain water does have something to do with it! I would love to hear that artists are starting to move here because of the sculptures.
Can you talk a bit about the relationship between Sculpturewalk and the Castlegar business community? And how has Sculpturewalk impacted the tourism sector?
Businesses have been hugely supportive of Sculpturewalk through our sponsorship, sales and leasing programs. Many local businesses sponsor sculptures. For this, they have their names engraved on the sculpture nameplates and printed in our brochure. All of the sculptures are also for sale and lease, and we've had many businesses and individuals who have fallen in love with one of the sculptures and purchased or leased it to place it in front of their business.
The neighbouring cities, Nelson and Rossland, have also come on board and bought and leased sculptures from us. It is wonderful to see the increase in public art in the West Kootenay directly because of our program. Sculpturewalk has also become a big tourist attraction (we're the No. 1-rated Castlegar attraction on TripAdvisor), and from our voting ballots we can see a wide range of tourists that are coming into Castlegar to see the artwork.
Besides Canada and the U.S., what other countries are represented in this year's Sculpturewalk? What are some of the farthest-away countries you've had inquiries from?
In the past, we've only had participating artists from North America (we did have an artist from Belgium last year, but his work came to us through our partnership with the Sioux Falls Sculpturewalk in South Dakota). However, for our 2015 program, which kicks off on May 9th, we're thrilled to have artists from as far away as Australia, Cuba and Iran join our program. I have to tell you I was pretty surprised to see applications from that far away!
The word about Sculpturewalk is definitely spreading. Our artist applications were up 30 per cent this year, and now we can truly call ourselves an international program.
What's the most whimsical sculpture you've seen in Sculpturewalk over the years? The most thought-provoking? The most amusing?
My favourite pieces of work are the ones that inspire controversy, sculptures that some people love, and some people loathe. That is one of the main purposes of art, to create dialogue and inspire emotion. I won't name any here because I can't play favourities!
Why should people come to Castlegar to see Sculpturewalk and what else should they think about doing while they're in town?
There are a lot of wonderful things to do here in Castlegar. I would personally recommend visits to the Kootenay Gallery, the Doukhobor Discovery Centre and the recently created Millennium Park Natural Swimming Ponds, which is a great place to take kids (I have six-year-old twins). I would also recommend lunch or dinner at the Element Club; I think it has the best food in the West Kootenay.
What book is currently on your nightstand (or in your e-reader)?
I've currently got three books on the go (between both the nightstand and the e-reader!): Neil Gaiman's Trigger Warning, Emily St. John Mandel's Station Eleven, and Capital in the Twenty-First Century by Thomas Piketty. I'm also really enjoying the cookbook Thug Kitchen (not for the easily offended!).