The truth is in the tasting
Saunders Family Farm in Windermere produces a delicious, preservative-free product line of jams and jellies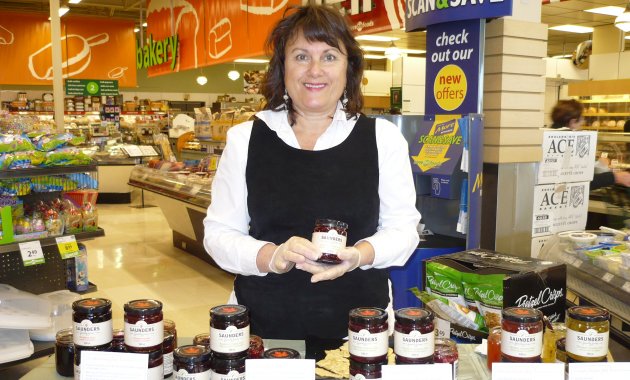 Writing this story about Saunders Family Farm involves a bit of serendipity. My husband and I were having coffee with Joe and Sanda Taylor in Cranbrook, when they brought out a jar of strawberry jam from their daughter and son-in-law's farm in Windermere. It was delicious!
A little later, my husband brought home a jar of Saunders pineapple jalapeño jelly. It was to die for!
OK, I thought, I really have to do a story on the people who make this fabulous fare.
If I'm writing in superlatives here, it's because I have been totally won over by the jams and jellies I've tried so far and can hardly wait to taste the next concoction.
But let's get down to business. Kootenay Business caught up with Faith Saunders who, with her husband, Gordon, runs Saunders Family Farm in Windermere. Faith's farming roots date to the 1850s; she is the fifth generation to be involved in farming in the Columbia Valley. Faith and Gordon's son Tanner will eventually make Saunders Family Farm a sixth-generation business. Faith took time out from the work she clearly loves to answer our questions.
Your family has a long tradition in farming. What keeps you loving this kind of work?
I think it's in my blood. Gordon was doing landscaping with my father, Joe, when we moved here from Calgary. Gordon was never a farmer but it's definitely in my blood.
What's your favourite part of your work?
For me, the most fun part is seeing how people like your product. It also feels so good to get out on the farm and work. I don't mind weeding at all; I like getting down in the dirt.
What's the most challenging part of the job?
(On the farm, the most challenging part is ) just to keep the weeds down! With our strawberries, we plant them first in pots in the greenhouse (about 4,000 plants). Then they go to the field. We lay down plastic with a hole in the plastic for the plant, with sawdust on top. That's how we try to control the weeds.
(With the jams and jellies, the challenge is) keeping up with the demand. We're putting in new equipment so we will be able to increase production. Our son Tanner is in business with us—he will eventually take over—and he's taking care of the upgrading.
How many different kinds of jams and jellies do you produce?
We started out with pineapple jalapeño jelly. Now we do six jalapeño pepper jellies, as well as the strawberry and raspberry jams. Our products are gluten-free and sulphate-free, with all-natural colours and flavours. We use pure lemon juice; people don't want preservatives.
What's your most popular product?
The strawberry-rhubarb is the most popular jam. Our rhubarb jalapeño jelly is very popular too. Anything with rhubarb seems to go over well!
Any plans to expand your product line?
Our son hopes to add a sweet Thai chili sauce; he's been rock climbing in Thailand and got the recipe from a family there. He's researching that for the future.
Tell us about the u-pick part of your operation.
We do a big strawberry u-pick every year (usually around the third week in June to the first part of July). People just love to go out and pick berries. The kids love to compete to fill their buckets. We grow strictly summer strawberries (the June-bearing type). This year we will have raspberries too at the beginning of August.
Anything else you'd like to add?
Here's something really cool: our pineapple jalapeño is used at Briggs Kitchen & Bar in Calgary. (They incorporate it into) one of their gin and tonic drinks. At the CasaVino Wine & Tapas Bar (in Radium Hot Springs), they use the jalapeño pepper jellies with brie, cream cheese and crackers. And Global TV is planning to do a feature on us!
Saunders Family Farm jams and jellies can be found at fine food stores and gift shops in Cranbrook, Fort Steele, the Columbia Valley, Banff, Canmore, Calgary and Edmonton. You might also pick them up at farmers markets in Cranbrook and Invermere, and you can order them online too. The products are federally approved and can be sold across the U.S. border as well.
RESOURCES: www.saundersfamilyfarm.ca