Standing out from the crowd
Pink Dog Designs in Nelson, B.C., offers graphic design and digital illustration by an award-winner with lots of ideas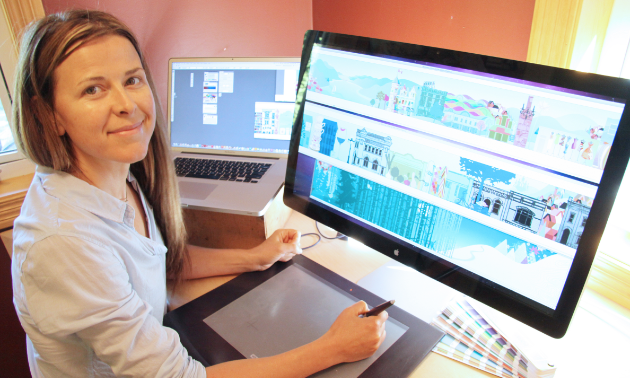 On her web page, professional graphic designer and digital illustrator Nichola Lytle describes herself as someone with lots of ideas: "I am always working on something new and trying different ways to connect with a difference."
Lytle, who is based in Nelson, B.C., has taught design and new media as a digital arts college instructor, is a published illustrator, has a bachelor of fine arts degree, and says "I'm nice!" on her web page.
We think so, too, and Lytle was kind enough to answer a few questions posed by Kootenay Business.
Briefly describe your business.
I am a graphic designer and professional illustrator. I create print and online communications designed to engage, inform, promote and inspire. I do graphic design, web, marketing and illustration in all styles.
What's one of the most interesting projects you've worked on recently?
One of my favourites is Stream labs—it is a local initiative to create a community innovation space where people can share tech tools, resources, knowledge and ideas. I was also chosen to illustrate six large-scale digital murals for the new B.C. Children's Hospital (in Vancouver). And (the same hospital) just hired me to design four more murals. I illustrate them on the computer based on the room dimensions and technical schematics of where the medical equipment is placed and then they are printed up by a huge printer and applied as large-scale wall decals. These ones are for the operating rooms—so I am designing 10 murals in all.
How did you choose the name of your company?
I wanted to take something familiar (like a dog) and show how sometimes (like in design) it doesn't take much to make something ordinary stand out from the crowd (colour it pink!).
Who or what inspires you?
I'm inspired by local innovative people who devote their time and energy to sharing and creating new ideas. I love exploring new ideas, art, design, technology and nature. I like being challenged to look at things from new perspectives or expanding my own paradigm of expectations.
How do you stay current in the graphic design business?
I am always learning something new from different projects/people. I love checking out new ideas/tech trends and design projects from around the world.
What's the best compliment your business has ever received?
An exhibition that I designed for curator/writer Eileen Pearkes called Roll On Columbia won a Canadian Museums Award. I also won a Canada Toy Council Award for a children's chapter book that I illustrated.
What do you like to do in your downtime?
Play lots of hockey, hike/bike in our amazing mountains, swim in our amazing lakes, ski, play with family and friends
What book is currently on your nightstand or in your e-reader?
Ageless Body, Timeless Mind by Deepak Chopra—it's always around.
Anything else you'd like to add?
I illustrated a book last fall called The Heart of the River by Eileen Delehanty Pearkes. I loved illustrating that book. This area used to be the spawning grounds of over three million ocean salmon. I hope we don't forget.