Location, location, location
This Kimberley-based computer mapping company has a global reach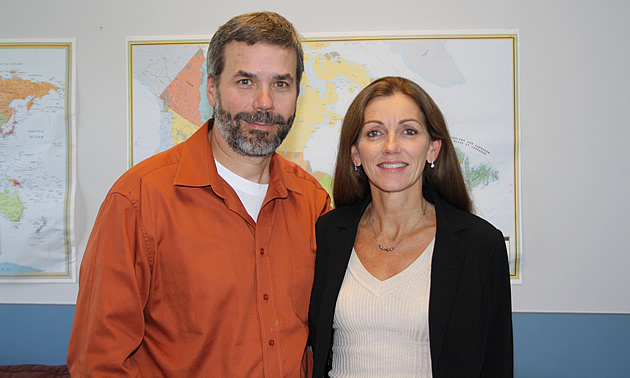 Kootenay Business caught up with Mary and James Swansburg, who are putting the Kootenays on the map—literally—with their Kimberley-based company, Landmax Inc. The Swansburgs kindly answered our questions.
Landmax Inc. is the first software development company in the East Kootenay to be accepted into the Microsoft BizSpark Startup Program. How did that come about, and what does it mean for your company?
BizSpark is a huge benefit for Landmax. As a three-year commitment from Microsoft, it allowed us to tackle much larger projects without fear of overextending our resources. For example, if our new global Internet product, Uber Weather, should become very popular, we could scale up to hundreds of millions of users with the Microsoft Azure system almost instantly. We had been testing Azure and working on an issue with a Microsoft employee, who then suggested we apply for BizSpark. We used his name as the referrer on the application, and with our existing experience with Azure, Microsoft accepted us into the program. There are lots of other benefits to BizSpark—we are just scratching the surface.
Please give us a brief description of what your company offers.
Landmax Inc. builds consumer software solutions that emphasize location, for markets like tourism and real estate, at both a local and global scale. Basically, we make the world's best maps!
Where does Landmax hope to be five years from now?
Since our software is useful for every Internet user on the planet, we are targeting scale in hundreds of millions of users.
Tell us a bit about your background.
We grew up hang-gliding, water-skiing, snow skiing and dirt biking in the Rocky Mountains. This brought us to Wasa Lake, where we built Wasa Lakeside B&B and raised four children. James had a passion for computers and built his first Internet application in 1990—which failed. Luckily, the Internet and computers have improved a bit since then! As pilots, we were used to studying maps, weather and land. This is reflected in the software we now build. It is map-based, includes weather and puts "Land" first. These attributes are well suited to tourism and real estate software.
What are your three (or four) favourite apps?
Netflix, Google Maps, Google Earth and, of course, Uber Weather.
What are your favourite online reads?
Kootenay Business magazine and LinkedIn groups.
What lessons have you learned in setting up your company and getting an online presence?
The Internet has become full of "noise" and it is now almost impossible to get your message out.
What tech trend do you see for the Kootenays in 2013?
If Uber Weather takes off it would create hundreds of IT jobs in the Kootenays.
When you were kids, what did you want to be when you grew up?
Mary: Teacher/life instructor (life coach, mentor, friend, supporter and confidante).
James: Me!
Do you have a corporate hero(s)?
Google founders Larry Page and Sergey Brin.
What makes Landmax Inc. a uniquely "Kootenay" company?
We live the mountain lifestyle and are not brainwashed by the urban nonsense.