Letterpress printing: what's old is new again
The old-fashioned art of letterpress printing makes a comeback in Fernie, B.C.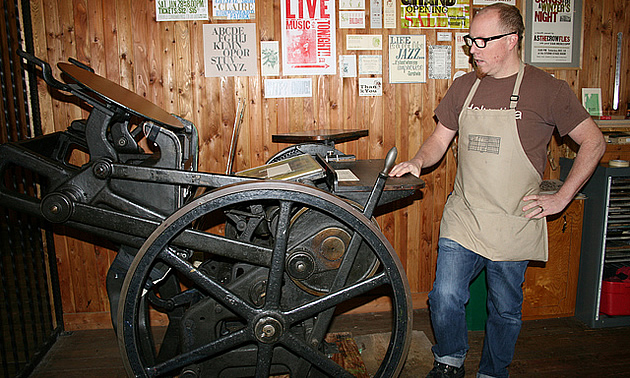 What with teaching workshops, making music and, oh yeah, running a business in Fernie, B.C., called Clawhammer Letterpress & Gallery, Michael Hepher is a busy man. But he took time to answer our questions about the art of doing business in a Kootenay mountain community he has come to love.
We know of you as a musician (first with As the Crow Flies, and now with Redgirl). So how did you get into the letterpress business?
Actually, I am still a musician, but fall more under the umbrella of "weekend warrior." I made a go of (being a) professional musician in the late '90s in Vancouver, but found the industry a cold, hard place to live/work, so abandoned it for the joy of making music for fun. As the Crow Flies was fun for a long time, and then we needed a change. Redgirl is also fun, but we are careful to keep it just that. (Michael's wife Anie Hepher is part of the Redgirl mix). We love performing but as parents of young children, and business owners, we are less flexible to chase that whenever we want.
As for the letterpress, I actually had been working as a graphic artist for a number of years, and grew a fascination with typography. A stint as a blacksmith with Cranbrook's Reimer & Co. led me to an appreciation of the historic trades, and I became curious about learning to hand-set type. A random question in 2004 to Don Wik at Rocky Mountain Print Solutions landed me a garage full of old printing equipment and a significant learning curve to clean, sort and figure out how to use all the stuff. There wasn't a lot of information around at that time, so I ordered a couple of books, and read as much as I could. Trial and error taught me a lot! In 2007 or so I met Peter Bartl and Jane Merks from PB&J Press in Balfour, and did some training with them. They have since become friends and mentors, and they have been a great source of information and even equipment.
Tell us a bit about what Clawhammer Letterpress offers.
Clawhammer Letterpress offers three things: (1) custom printing for special occasions, posters, wedding invitations, business cards, etc.; (2) typographically inspired hand-printed merchandise like greeting cards, coasters, journals, woodblock prints, etc.; and (3) workshops and seminars for individuals, small groups and school groups.
It seems like kind of an old-fashioned thing to do. What does letterpress offer that modern printing doesn't?
Letterpress offers a couple of things you don't find in modern printing—texture and pressure. The press uses pressure on a raised (relief) surface to transfer the ink. This means that if you use thicker paper, it actually makes a deep impression that gives the finished piece a three-dimensional, sculptural quality. It's fascinating to see people pick up a card or coaster and run their hands over it—it is truly a unique quality now, where the modern printing lays ink on top of the paper and everything is about smooth and perfect.
As for the texture, because most of my equipment is about 100 years old, the history of the equipment is shown in each piece. The large letters have distinct nicks and blemishes that add a unique and human quality to the printed piece. Each piece of paper that comes off the press is slightly different, and has grit and texture that tells the viewer that it is a hand-made piece.
Any special reason for choosing Fernie to set up your business?
We love living in the mountains, and the Kootenays. We were looking for a place to open the letterpress/gallery and knew we didn't want to go to a big city, but needed a place that has a good support and understanding of the arts, as well as a reasonably steady interface with the travelling public. Fernie seemed to offer that. So far we have really enjoyed getting to know this community, and been welcomed into Fernie by many people. We are looking forward to sticking around for a while.
You're also running an art gallery at Clawhammer. Can you tell us a bit about that?
The gallery showcases regional painters working primarily in impressionist or modern landscapes. I do have some abstract pieces, but I love the history of the Canadian landscape painting initiated by the Group of Seven, so have sourced eight to 10 artists between Kimberley and Calgary that are professional or emerging, and showcase their work in the gallery.
The images are carefully hung and properly lit. Fernie has so many great artists, but no commercial gallery, so I felt there was a niche for that. So I created a space that included my working studio, and a lovely 700-square-foot gallery space as well.
Have you incorporated music into the new business and, if so, in what way?
Yes—the gallery space has great acoustics, so we've been holding small concerts here once a month or so. Recently, we've just showcased Cara Luft, a Juno Award-winning singer/songwriter, and on February 18th we'll be having Bob Wiseman, former keyboard player from Blue Rodeo, playing here. It's a small, intimate venue that works really well for small acoustic groups.
Any community involvement you'd like to mention?
We are members of the Arts Station, which is a great hub of the arts here in the Elk Valley, and I am also a member of the Fernie Artists Co-op, which is a great resource for artists in the area. We tend to jump into things with both feet, so Anie and I are getting involved where we can, and where we have passion. I will be helping to organize an ongoing ArtWalk in Fernie, which will help us showcase the many venues for art around here.
Any workshops coming up?
I am giving a weekend workshop Friday evening and Saturday all day, February 17th to 18th on learning to hand-set type. Cost is $155 including all materials, and there is a limit of six people. Call 1-778-519-5010 to register. I also have workshops going in March and April.
I gather people can watch you operate the press. What's been the public response so far?
The public response has been great. I have met many interesting people. Many are fascinated by the machinery, and others are fascinated with the process, or the product. It feels good to be raising the awareness of the "trade" by working in a public spot like this. There are not a lot of places you can see this gear in use, and get right up close.
Anything else you'd like to add?
Thanks so much for asking! If you want to drop by sometime, our shop is on Second Avenue, downtown Fernie, in the Fernie General Store building, across from Freshies.