Keeping fit in life and on the job
As manager of Evolution Health & Fitness in Fernie, B.C., Deanne Milley has found a role that fits her interests and lifestyle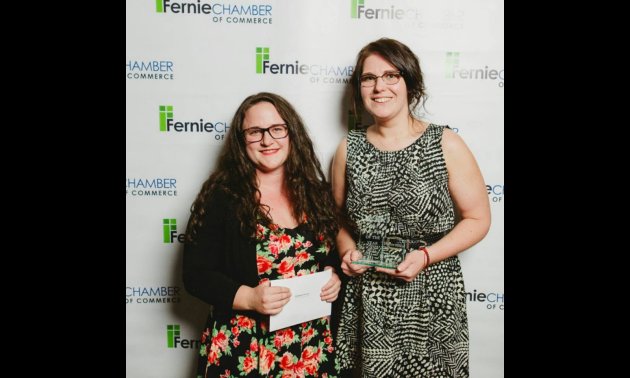 Deanne Milley, the manager of Evolution Health & Fitness in Fernie, has been recognized by her community as an employee extraordinaire. She gives credit right back to that community, which she says is full of kind-hearted people who make coming to work a joy every day.
Milley kindly answered a few questions for Kootenay Business.
You recently won an Employee of the Year award from the Fernie Chamber of Commerce. Don't be modest—why do you think you were honoured in this fashion?
I work really hard at my job—I don't like to spend my time sitting around so I try to keep myself busy. I also give the best customer service possible and like to treat every customer with the respect they deserve. Outside of my job I still like to lead a healthy and active lifestyle, which in the gym environment is extremely motivational.
Could you briefly describe a typical work day at the gym?
A typical day at Evolution starts bright and early for me. I open the doors at 6 a.m. and greet the morning members, then I'm off to some light janitorial work to make sure the facility is clean and ready for the day. Then, full swing, I dive into behind-the-scenes work such as scheduling, ordering supplies and social media marketing. At the front desk I motivate our members with an upbeat and fun greeting to really make their workout something to look forward to. Finally, the nicest thing about starting the day early is finishing early!
How did you come to choose this type of work?
When I joined the gym myself, I quickly saw how having a healthy lifestyle impacted every aspect of your life. I was feeling stuck in my current job setting and a good friend of mine was leaving her position at the gym. She highly recommended the positive and friendly environment the gym provided. Seeing where I wanted my health to stand in years to come, I jumped on the opportunity.
What training or education would be helpful to someone else looking to get into your line of work?
There are many great managerial programs available through countless colleges, but sometimes college isn't for everyone. I have been lucky enough to start off my work experience in an environment that quickly saw my potential and allowed me to advance slowly but steadily. Through years of hard work, dedication and on-the-job training, I've worked my way into this position. I truly believe if you work really hard and are kind, amazing things will happen!
What is it about your work that has you excited to get out of bed in the morning?
I love our members! The surprising friendships I have made over the years truly make my job something special. Working in customer service, you don't always get to connect with your clients on a personal level but at Evolution it's more than a gym, it's an amazing community.
Where do you hope to be five years from now?
Super early retirement? (laughs) Just kidding! I haven't really put much thought into long term. I'm more of a live-for-the-moment kind of girl.
What do you love most about living and working in the Kootenays?
What I love most is the amazing communities that exist, surrounded not only by the beauty of nature but the kind-hearted beauty of the people in the communities as well.