At the farm gate: Fresh food, flowers, fine wine and fanciful wares for sale at West Kootenay farms
Summer is the perfect opportunity to explore our area and shop locally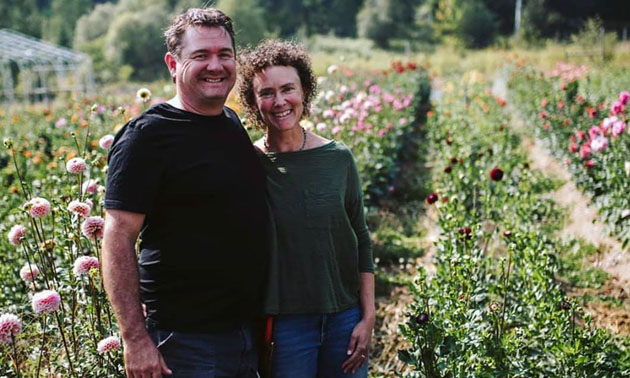 It's officially summer! For many of us, it's a favourite season made up of family reunions, backyard barbeques with friends and relaxing on the deck. It's also the perfect time to head out to one of our local farms and food producers to pick up some fresh, healthy locally grown produce, ethically raised meat or a selection of fine wines.
Our fertile valleys and mountains are home to a multitude of farms, ranches and people dedicated to local food production. Shopping locally ensures that these hand-working folks stay in business for years to come. Having a secure and robust food economy helps to ensure our local food supply remains dependable in times of crisis. Buying local means access to a plethora of the freshest available food—unlike grocery stores where fruit and vegetables are often shipped from far-flung locations. Supporting our local food producers also helps to maintain our ecological diversity as many farmers grow several varieties of plants as opposed to one specific species common in mass farming productions.
How about taking the gang on a fun picnic to a local lake or arranging a romantic rendezvous with a special someone? On the way, stop at one of our local farms, vineyards or food producers and pick up a few culinary delights to enjoy. From U-pick fruit and vegetables, homemade jams and fresh-cut flowers to hand-crafted sausages, smokies and fine wines, there is a rich selection of products to be discovered.
Staying local means the opportunity to support our local businesses and farms, an especially important consideration as we slowly recover from the economic repercussions of a global pandemic. Check out this list of West Kootenay farms and food producers who offer sales directly to their customers on site.
Where to buy local food in Arrow Lakes
Burton City Cider: Specializing in all-natural dry craft ciders. Open by chance or appointment throughout the year. Please call or text to inquire about availability, 250-265-7044.
Caribou Creek Market Gardens: Offering fresh and freeze-dried organic fruit and produce. Farmgate sales by appointment, 250-265-7120.
McCormack Farm: Family-run since 1903, the McCormack Farm offers grass-fed beef, pork, chicken and turkey, fresh eggs, vegetables and fruit. Visit their Facebook page for market and farmgate sales information.
Where to buy local food in Castlegar
Glade Organics: Situated between Nelson and Castlegar, Glade Organics is a certified organic market garden. Their farm stand is open from 3 p.m. to 6 p.m., Tuesday evenings, from May to October. They also offer online ordering and local pick-up at the farm. 2305 Hwy 3A, 250-777-2168.
Stone Meadow Garden: A small flower farm nestled in the heart of the Kootenays, Stone Meadows Garden specializes in cut flower sales. Seasonal, fresh flowers and bouquets can be purchased from their farm stand on Thursdays, Fridays and Saturdays from 9 a.m. to 6 p.m. 2273 Hwy 3A between Nelson and Castlegar, about 5 minutes south of the Slocan Junction. Phone: 250-304-8084.
Where to buy local food in Crescent Valley
Kosiancic Farms: A family-run farm since 1900, the Kosiancic Farm specializes in sausages, with no less than 12 different kinds of sausage on hand at all times. Their sausage repertoire includes up to 50 different kinds, between cured and fresh. 2183 Highway 6, phone: 250-359-6706.
Where to buy local food in Fruitvale
Earthy Organic Farms: A local certified organic farm offering fresh vegetables, egg sales and honey. 1208 Columbia Gardens Road, phone: 250-368-1909.
Where to buy local food in Grand Forks
Boundary Hill Farm: Boundary Hill Farm offers naturally grown fresh fruit, vegetables and meat. Farm is open Monday through Saturday, by appointment only - phone 250-444-9659.
Where to buy local food in Nakusp
Fox Farm: Farm raised pork and beef, farm fresh eggs when available. 2250 Hwy 6 South, phone: 250-265-4393.
Where to buy local food in Nelson
Kramars Berry Farm: Offering U-pick blueberries, raspberries, gooseberries and red/black/white currants from July through September. Black raspberries, blackberries and frozen blueberries are also available, but only as We-pick. Please call ahead to ensure we have sufficient ripe berries and for address/directions: 250-505-5328.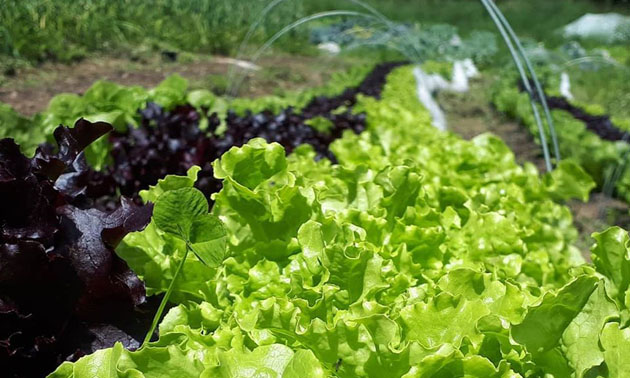 Where to buy local food in New Denver
Silver Sage Flora: The Silver Sage Flora Farm provides locally grown cut flower bouquets, fresh herbs, dried and wildcrafted botanicals, as well as pottery and art. Offering Flower Friday pickups in neighbouring communities. Phone 250-358-2169 to inquire about farmgate sales.
Where to buy local food in Revelstoke
First Light Farm: A new market garden to Revelstoke, First Light Farm specializes in organically-grown baby greens, arugula, basil, carrots, beets and more. They are dedicated to producing food locally for Revelstoke residents. Delivery can be arranged and their products can also be found at the Revelstoke Farmer's Market. Phone: 250-661-7149.
Where to buy local food in Rossland
Happy Hills Farm: Using regenerative farming practices, Happy Hills Farm is family-run and offers high quality, nutrient dense, and flavourful vegetables, fruit, herbs and microgreens year-round. The farm store is located at 2302 Happy Valley Road in Rossland. Hours: Thursdays and Fridays from 2 p.m. - 6 p.m., Saturdays from 10 a.m. to 4 p.m. Read our Q&A article about Happy Hills Farm by writer Virginia Rasch.
Where to buy local food in Salmo
Salix and Sedge: A small market farm offering lots of tasty, fresh veggies from their farm stand. Located at 204 Curwen Road, the stand is open from noon to 7 p.m. daily and takes cash or email money transfers.
Forrest Farms: Offering pasture-raised livestock, goat milk soap, eggs, wool, meat and more. Farmgate and online sales available. Stand open Saturdays from 10 a.m. to 3 p.m., 1244 Airport Road.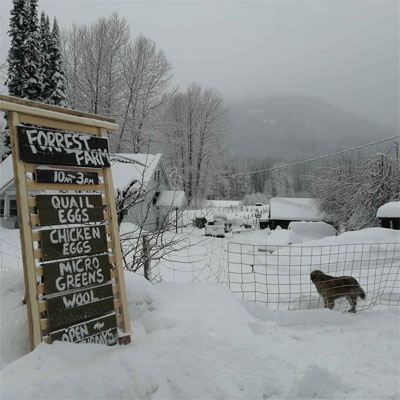 Where to buy local food in Slocan Valley
Fairway 4 Farm: Offering a variety of greens, herbs and vegetables including bok choi, radishes, turnips, tomatoes, cucumbers, sprouts, squash, peas, onion, kale, spinach, asparagus, peppers, eggs and much more! Farm gate pick-up, farm stand and weekly deliveries to Slocan City and Winlaw. You can also call to order directly by phone: 250-226-7767. Address: 7055 Bentley Road.
Hummingbird Farm: Speciality cut flowers and fresh fruit. Come by our farm stand—4380 Slocan River Road. Hours: Thursday and Friday, 1 p.m. to 6 p.m.; Saturday and Sunday, 10 a.m. to 6 p.m. Please bring cash or cheque.
Where to buy local food in Winlaw
Dancing Baba Food Company: Dancing Baba is a small batch company offering delicious and traditionally-made pyrahi, borscht, vareniki & perogies. Phone 250-226-6945 or email [email protected] for direct sales.
Against the Wind Farm & Gardens: Organically-grown U-pick blueberries and cut flower sales. Come and visit our farm at 6376 Slocan River Road, 250-226-7765.
Cripple Crow Ranch: Ethically-raised and certified organic meat chickens. Direct sales to the public in the summer and autumn. Email [email protected] for availability.
Crooked Horn Farm: A small-scale, certified organic farm selling a variety of market vegetables as well as oyster and shiitake mushrooms. 5361 Filipoff Road, phone: 250-226-7062.
Four Seasons Greenhouse & Nursery: Fresh vegetables, flowering bedding plants, trees and shrubs. 5531 Slocan River Road, phone: 250-226-7254.
Where to buy local food in Wyndell
Webbers Mountainside Cherries: A small, family-run cherry orchard offering fresh cherries, chocolate-covered cherries and freshly-pressed cherry juice. 5293 Bossio Road., phone: 250-866-5573.
Kootenay Natural Meats: Quality meat raised naturally, offering grass-fed Angus beef, lamb, heritage pork, chickens and turkeys. We also sell unpasteurized honey and farm fresh eggs. Please call ahead for orders, 250-428-4034.
If we missed adding your farm or food producer to this list and you would like to be included, please send us a message: [email protected].