Shelley Adams
Shelley Adams has become a bestselling author of the Whitewater Cooks series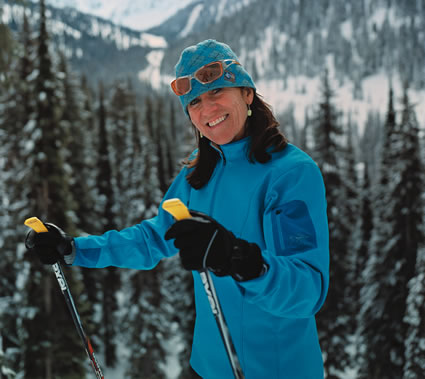 Adams was born in West Vancouver, where she started her professional life as a caterer for the film industry. When her husband, Mike, became the owner and manager of Whitewater Winter Resort in Nelson in 1985, Shelley eventually became a part of the mountain's day-to-day operations by running the Fresh Tracks Café, Whitewater's restaurant.
"It developed a reputation," said Adams. "People were coming there just for the food and it won all sorts of awards—Ski Canada and Best Hilltop Restaurant in North America."
A friend suggested compiling the best of Adams' recipes from the restaurant and her previous catering business—along with contributions from other chefs Adams had worked with—into a cookbook. The result—Whitewater Cooks—was an overnight success, even gaining the attention of food editors from the New York Times, who came out to meet Adams and check out the Whitewater powder.
The success of her second book, Whitewater Cooks at Home, has been even more astonishing—over 20,000 books have sold in just over 10 months. What makes that figure even more remarkable is that it is entirely self-published and self-marketed, with the bulk of the books—11,000—being sold within the Kootenay region.
Part of the appeal is that the book is as tempting as the concoctions within because of the help of co-author Joanne Ryan, designer Minn Benedict and photographer David Gluns. The simplicity of the recipes has contributed to the book's success; the dishes are easy to make with ingredients that are accessible to most.
"Nothing's daunting," said Adams. "And you can recreate those dinners in my photos easily at home."