Mike Elliott
Mike Elliott, owner of Kettle River Canoes, loves his work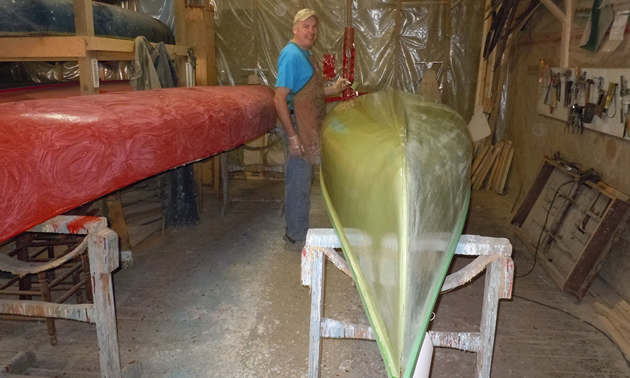 There can be no doubt that those who love what they do are among the luckiest people around, and Mike Elliott, owner of Kettle River Canoes, certainly qualifies.
Elliott's business—and passion—is restoring antique canoes, most of which are more than 40 years old. He said that he's never had to search for customers or canoes.
"They find me," said Elliott. "When I first drafted a business plan, Iâ��had ideas of making tours around cottage lakes and it's impossible to find canoes that are stuck up in barns or under porches or in sheds for 15 years. People who have these canoes don't throw them away—they're part of the family."
However, when people drive by Elliott's house with the restored canoe showcased in the front yard, or go online to get information on restoration, another canoe comes into his life.
Elliott's early professional life didn't start with the quintessentially Canadian watercraft, but did lead to his present career. For many years, he worked with at-risk youths. He and another youth-care worker struck upon the idea of building cedar-strip/ep-oxy canoes with the kids and taking a trip.
From there, locals started bringing dilapidated canoes for Elliott to restore and in 2003, he made it his full-time business with the help of the self-employment benefits (SEB) program offered by Community Futures.
"It's an absolute joy," said Elliott. "I realized that anybody using SEB would not succeed unless they had an absolute passion for what they were doing."
Elliott's passion has also shaped his philosophy; he sees the canoe as a Canadian metaphor for life, encompassing co-operation and getting along with each other.
"We are a canoe culture," he said. "Our aboriginals used canoes and we paddled canoes for 200 years in the fur trade."