Kara Clarke
A husband, two children and a thriving jewelry business are keeping Kara Clarke busy and happy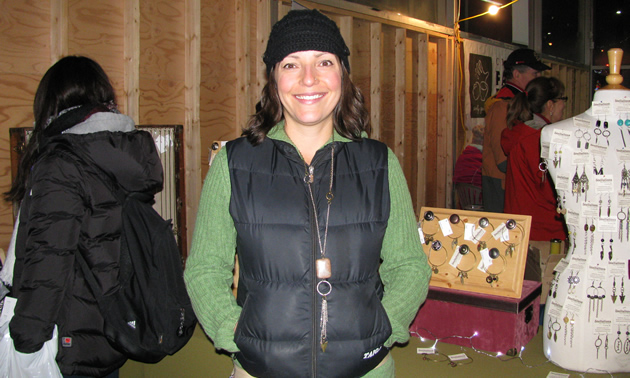 Kara Clarke was working as the office manager for a landscape company in Victoria, B.C., when she started her sideline jewelry business, Kara Clarke Designs, in 2010. In 2012, when she was eight months pregnant with their first child, Kara and her husband, Dave, moved to his home town of Kimberley. It was her wish that, along with motherhood, the jewelry sideline would be her full-time occupation, and Dave gave her his full support.
In October 2015, for the second consecutive year, Kara Clarke Designs received the Home Business of the Year award from the Kimberley & District Chamber of Commerce. We wanted to learn more about this successful entrepreneur, and Kara kindly answered our questions.
People love your products. What do you think you're doing right?
I'm determined to never give up. I stay in the public eye doing markets, I do custom orders, I supply what people want. People love the Stellalissa line because of the variety, the mixed metals, the gemstones and different textures and geometric shapes. The pieces range in price from $10 to $70, so you can buy a couple of pieces and not break the bank.
Tumbled Earth uses Kootenay River stones, and people love buying local. People who don't usually wear jewelry will wear my Tumbled Earth pieces because they're earthy, modern and simple. I always hear people saying, "What a neat idea," and that they have never seen stone jewelry designed quite like that before.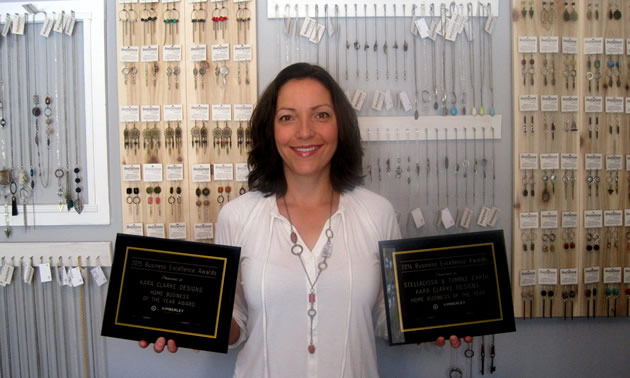 What's the best compliment you've received about your business?
I was honoured to receive the Home Business of the Year Award from the Kimberley chamber and really surprised to get it two years in a row. I did not expect that. And my customers are great—they're loyal, they follow me on Facebook, and they make it possible for me to do what I love.
Where did the name Stellalissa come from?
Stellalissa is two nicknames put together. My maiden name is Mastel, and my husband always calls me Stelly. My middle name is Elissa, and my dad would call me Lissa as a kid. I put the two together and I loved the sound of it.
When you were six, what did you want to be when you grew up?
When I was a kid I loved art, but I never thought of making jewelry until I saw the things my mother-in-law makes—she's the one who got me into it. I loved what she was doing and it gave me lots of ideas for my own jewelry. I went to school for Outdoor Recreational Management, and I loved it, but I'm completely self-taught with the jewelry.
Who is a local business person that you admire?
The first person that comes to mind that I really admire is my mother-in-law, Kathy Clarke, for her amazing personality and her many skills. She's a retired nurse, and she's good at everything. She makes jewelry, she can sew, she's a Steppin' Out Dancer, and she's so involved in the community—she volunteers at Centre 64, she teaches fitness classes, she skis. She has made a very positive impact on my life.
My husband is awesome. He's a big believer in me and he does the hand-drilling for the Tumbled Earth pieces. My father-in-law, Barry Clarke, built all of my displays for the markets and my home studio. And my parents are so supportive and encouraging. I have a very loving family.
What's the biggest risk you've ever taken?
Leaving our jobs and moving here with a baby on the way, a mortgage and no jobs in place. It looked crazy, but we never doubted that we'd be okay. Now, Dave has a great job, we have two beautiful children—Nathan (three) and Marla (one)—and I'm doing what I love.
How would you define success?
Success for me is when my family and I are happy. Happiness for me means spending time with my family, being in nature, enjoying outdoor recreation and music.
Do you have a favourite quote or mantra?
I do, and I actually have it tattooed on my wrist. It's "Live well, laugh often, love much." It reminds me how grateful I am for my life.
Is there anything you'd like to add?
I love this community and donate many pieces for special events and fundraisers. Feel free to contact me if you have an event and are interested in a Kara Clarke Designs donation. If you go to my Etsy site, stellalissa.etsy.com, and use promo code KBMAG, you will receive 20 per cent off online orders.