John Urquhart Sr. and John Urquhart Jr.
Father-and-son team operate Valley Firearms in Trail, B.C.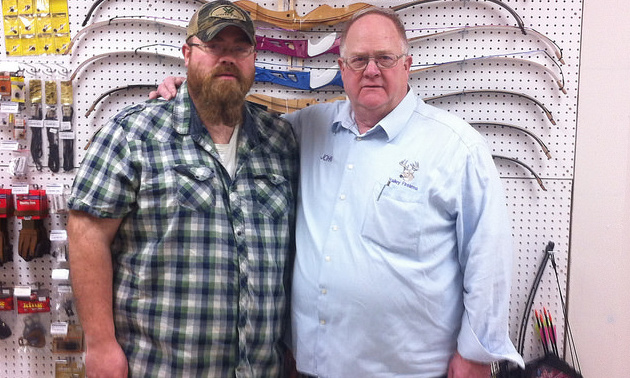 John Urquhart Sr. originally had the idea to open Valley Firearms as a hobby. His son, John Urquhart Jr., was working as a resource officer in Manitoba, but he wanted to return home to the Kootenays, a place he could foresee raising a family. They took on the challenge together, building the niche business in Trail, B.C.
In December of 2015 the business diversified, melding an archery business into the upstairs at its location. They also carry fishing gear. This year the father-son team received Trail's Business of the Year award and are now being named among Kootenay Business' Top 10 Business People. John Jr. took some time to talk to Kootenay Business about starting a family business and helping it to grow.
What is the best compliment your business has ever been given?
The customers that just keep returning. We have one gentleman who has bought 30 or 40 firearms from us now. He doesn't ask for a deal—he accepts that we're trying to do the best prices and the best service that we can. Most of our customers now I would consider friends.
What's the main thing you think you are doing right?
I think we're trying to meet the needs of as many people as possible and to provide products and a service that just weren't available through anyone else in this area between Cranbrook and Kelowna. The way we've done it is we buy heavy in order to have a selection here for customers. That's probably one of the main differences between us and a lot of other places.
How would you define success?
I don't know if we've achieved it yet. It's been a growth and I don't know how far we're going to go with it. I think we're trying to provide a good work environment for our employees and a place that the customers enjoy coming to as well. I don't know if there's a top where you say, "Ok, we've made it," or if it's just that you take on a new challenge at that point and continue forward with that.
How do you stay current?
We travel to all the major dealer shows and manufacturer shows just to stay current on what's happening in the industry. That's how we can stay competitive with any of the big stores that you find in the big centres. We have to go right to the source and buy as direct as possible.
What lesson have you learned to help you thrive in a challenging economy?
It requires the support of so many other small businesses. For example, the neighbours next to us allowing us access to our roof to repair our building or the electrician that comes in on a Saturday to help you out. In running a small business, you really realize how many other people it takes in the community to make you successful.
What do you do for fun or in your downtime?
Probably spend it with my wife and (my three) kids. When I can get away, I used to most enjoy hunting and fishing. But, yeah, now family is really important to both of us. There's nothing more fun than going tobogganing.
When you were six years old, what did you want to be when you grew up?
Probably the job I had prior to this, which was a conservation officer. It was something I did work experience with in high school and I loved the job.
What's the biggest risk you ever took?
I'd have to say starting this business. I've thrown everything I could into this and so has my father. We both work very hard at it. We've invested a lot into it. It's been the biggest risk that I think both of us have taken, and the support we've received from my mom and my spouse has been amazing.
Is there anything else you would like to mention?
Probably just how much we really do appreciate the support. One morning I showed up an hour before work and there was a gentleman parked out front. He'd driven down from Elkford to just come pick up some supplies and head home. Then two weeks later he was back again because the other guys on his shift at the mine realized that he knew where to get stuff so he came back and took a big order back for them. Those are things that shock us all the time. When you get a call from a gentleman leaving Revelstoke saying, "Do you have this? I'm on my way." If a customer is going to be late and calls us ahead of time, I have no problem staying because without them there's no point in us being here.
It's been a challenge and it's definitely been rewarding.