John Eckland
John Eckland is making history new again with the reconstruction of the landmark Kaslo Hotel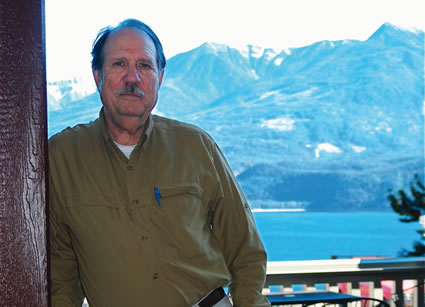 John Eckland first came to Kaslo, British Columbia, in 2006 after a life spent in various careers—he's been an economist, a federal employee of the U.S. government, the owner of a manufacturing company, the head of a golf club in California, a consultant for an energy company, a real estate developer in Nevada and a fishing guide in Idaho.
"I came up to Kaslo on a fishing trip and liked what I saw," said Eckland. "I saw this business was for sale and sort of bought it on the spur of the moment."
The hotel, originally constructed in 1896, was taken down to its foundation and a few exterior walls and rebuilt to modern specifications and codes. What has remained is the sense of grandeur and antiquity that gives the place presence.
"A fellow who needs a lot of credit is Bob Enwood," said Eckland. "He's well known in this part of the Kootenay for restoration work and heritage design."
This hasn't been a kind year for people in the tourism industry—the sluggish economy, a rising Canadian dollar and new passport regulations have hurt many in the resort business. Eckland said he was prepared to have a slow start to the new undertaking.
"I didn't expect much of a return the first year, and I haven't been disappointed," he laughed. "I actually have been encouraged by it. We have something to build on."
Eckland grew up in the hotel business—his parents ran a hotel in California when he was a child—and he has brought his son, Tom, into this venture, creating a family legacy as well as a historical feature for Kaslo.