Jason Roe, Lynsay Roe, Brydon Roe and Emma Kirkland
Brydon Roe, his brother, Jason, Jason's wife, Lynsay, and her sister, Emma, have built an accommodating business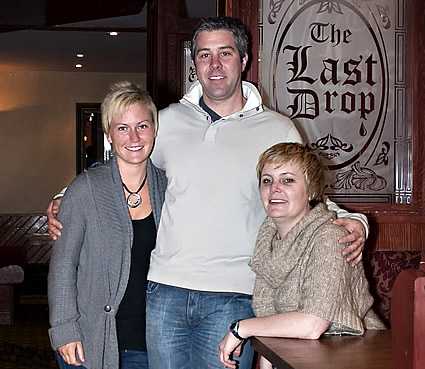 This team's passion for excellent service beyond the expectations of their guests is responsible for their success in their first year of operating Powder Springs Inn, even during a slow tourism season. Upgrades to the property have created a welcoming ambience that is appealing to visitors.
According to Brydon, Kirkland was the key to the four globe-trotting family members deciding to go into business together and purchasing Powder Springs Inn.
"Emma is well versed in the running of hotels," said Brydon. "My brother and I had been living in Revelstoke—buying and managing properties—and the opportunity came up to buy the hotel . . . and with Emma's expertise, we were able to pull it all together."
Kirkland was attracted by the business potential, the chance to be closer to her sister and the opportunity to live in some of the world's premier skiing terrain. But it's the people of Revelstoke that have really made her feel at home.
"Having only been here one year, I have been amazed by the community spirit," said Kirkland. "Everyone has accepted me and welcomed me above and beyond what I ever expected. Everyone works together to support the businesses in town."